Flood of the Century
Fire
Safety of Our Citizens...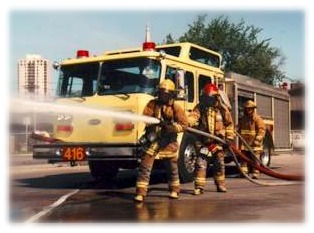 The Emergency Operations Centre (EOC) was kept busy 24 hours a day. By working closely with all civic departments, members of the Fire Department shared responsibility with all EOC staff. Members had the unique experience of contributing to the overall management of the flood emergency and came away with experience and lessons learned that will undoubtedly contribute positively to the successful management of emergencies and large scale incidents in the future. They ensured communication and coordination of information, effective mitigation of emergencies, timely supply of civic services and resources to needed areas, as well as fielding questions from the business and corporate community and the general public.
Evacuation
Firefighters conducted mass notification of potential evacuation areas by delivering evacuation notices. For example, the St. Norbert and Kingston Row areas were served evacuation notices by Operations Personnel. A hovercraft was on standby and available to assist with evacuation and rescue. The water rescue crew was accompanied by a paramedic available 24 hours per day.
Water Rescue
The Department provided water rescue capabilities throughout the city and flooded areas and provided assistance getting Paramedics from the Winnipeg Ambulance Service into flooded areas. The Emergency Mechanical Services Branch was kept very busy not only managing a large fleet of fire apparatus, but a newly acquired fleet of watercraft that required maintenance and servicing and some specialized mechanical skills. Gratefully, they did not experience any major problems.
Inspections
Members of the Fire Department assisted the Harbourmaster and members of Streets and Transportation with dike inspection, shuttling residents to and from their evacuated properties, and supplying pumps and fuel to diked properties. Fire Prevention Officers were involved with inspections to ensure that Life Safety Equipment such as alarm systems,emergency lighting, generators and fire pumps were in good working order.
Critical flooded areas were checked twice daily in conjunction with other civic departments as many buildings had flooded parkades. Some buildings without power had to be evacuated. The Department worked closely with building owners and managers of apartment complexes that had flooded basements.
Many building managers were understandably apprehensive about the flood and greatly appreciated having a Fire Prevention Officer as a resource. The officers were often able to answer their concerns.
Hazardous Material
Two fire stations were established as collection sites for hazardous materials dropped off by evacuees or homeowners taking precautionary action in case of basement flooding. Fire personnel removed bulk tanks of hazardous material such as fuel, pesticide, and fertilizer or placed them in a fixed location for removal later. Prevention Officers were also kept busy monitoring the hazardous materials drop off sites located at selected Fire Stations.
Video History
Academy staff patrolled the dike areas and created a video history/library of dike building progress and the impact of the rising flood waters. These videos were invaluable to the Emergency Operation Centre and civic leaders because they provided up to date visual information to assist their decision making process.
Training
The Academy also provided training in conjunction with shift training facilitators in the operation of various equipment and specialized boats such as the hovercraft and fanboat used in the areas South of the floodway.
Finally, everyone in every department involved directly with the flood must pay homage to those who remained behind "back at the office", for they kept everything on track, so that when those assigned to flood duties returned, a real panic didn't set in.
The description of services in this section reflects the City structure in 1997. Since this time the City of Winnipeg Organizational Structure has changed significantly.
Current City Structure
Last update: September 30, 2014