Flood of the Century
Volunteers
Volunteers sandbagging along the
Red River in Winnipeg
As the rising Red River became a threat to Winnipeg, volunteers were desperately needed to assist residents building dikes to protect their homes. The Volunteer Team coordinated volunteers, requests for volunteers, transportation to and from diking locations, and meals and refreshments.
Thousand of volunteers assisted with the construction of sandbag dikes. In fact, it is estimated there were 150,000 volunteer days of work contributed to the flood fight. Wherever volunteers were required, the affected residents were advised to contact the Flood Hotline for volunteers and the volunteer team put out the call for help.
Call Centre Link
The Call Centre was the vital link between residents' requests and volunteers wanting to help.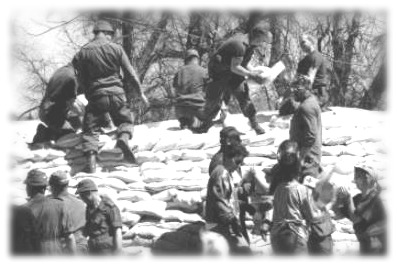 Volunteer registration took place over the phone and at designated checkpoints set up by area coordinators. Human Resource Development Canada took individual walk-in registrations prior to the flood operations. Parks and Recreation staff and personnel at several Winnipeg Fire Stations also handled registration.
With up-to-date information available on volunteer assistance and information, the Call Centre Operators directed groups and individuals to the locations where their help was needed the most.
Residents' Requests
The Volunteer Team responded to individual requests for assistance and offers of help such as "Bobcats", heavy machinery, aircraft, boats, boots, therapy and daycare services.
The Team coordinated all individuals and groups offering to help sandbag, but before volunteers were sent to homes where assistance was needed, the Team determined if the residents would be home to supervise the dike building and ensured that supplies (sandbags, porta-potties, etc.) were at the site.
Volunteer Wellness
The Volunteer team arranged for services such as portable toilets, transit shuttles, and food for the volunteers. Organizations such as the Salvation Army and St. John Ambulance provided food, first aid and other resources to volunteers. Arrangements were made for shuttle bus services using Winnipeg Transit buses and private companies.
In some instances, the volunteer team was called on to assist individuals who had health concerns or were unable to find the resources to help themselves. In these cases, special arrangements were made through the Volunteer Coordination Team to assist these residents using volunteers and city foremen in the field.
Volunteer Recruitment
When large scale volunteer effort was required, the Volunteer Team called community groups to solicit assistance. They worked with area operations at various locations in the city to ensure volunteers were sent to areas of greatest need as well as to prevent overcrowding in areas with sufficient volunteers.
Public Service Announcements for volunteers were prepared and faxed to local radio, TV stations, newspapers, and placed on the City of Winnipeg Internet site.
On site, informal and formal volunteer supervision took place in several ways. Individual property owners, group leaders, school teachers (for school groups), City of Winnipeg foreman, military, and resident coordinators directed volunteers as needed.
Training
Volunteer training took place on site. Residents were given instructions on how to build a dike and given the opportunity to attend an orientation session that demonstrated dike building. Property owners were then responsible for instructing volunteers in the basics of dike building. City foreman were also in the area, available to assist with dike building instruction whenever they could.
Last update: September 26, 2014