Flood of the Century
Public Utilities
Winnipeg's Public Utilities Working Together
During the Flood of 1997 all the activities of Winnipeg's utilities – whether they were public (Water & Waste and Winnipeg Hydro) or private (MTS, Centra Gas, Manitoba Hydro) – were coordinated through the Public Utilities Coordinator in the Emergency Operations Centre: monitoring water levels/flows, supplying pumps, monitoring sewer systems for possible sewer backup, and shutting off and then restoring all utilities in the flood-stricken areas.
River Levels: How High and How Fast
Water and Waste staff, in association with Provincial Water Resources staff, began monitoring and predicting water levels well before the snow melted. During the flood, engineers were in constant contact with staff from the Provincial Water Resources Branch. They then provided forecasted river levels to the rest of the organization. They continually monitored river and water levels throughout the City. This helped the rest of the organization plan and prepare for dike building, for using flood pumping stations and for possible sewer back-up.
Pumps: Keeping the Water Out
Once dikes were built, the work was far from over. Seepage was a constant problem – one of the solutions was using pumps to keep the water out. Across the city, crews set up pumps to remove water from inside the dikes and to pump the water back into the river. The pumps were then monitored to ensure that they were functioning properly and would not run out of fuel. Not only did the pumps protect homes, but they also reduced the risk of damage from sewer backup.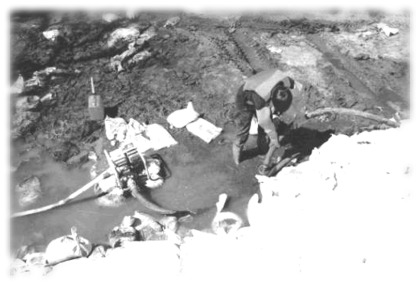 Crews also used pumps in manholes, as well as sandbags, to pump land drainage systems and to prevent surface water from entering an already over-burdened sewer system.
In total, 319 pumps were deployed throughout the city and 87 pumps were kept in reserve. These figures do not include the hundreds of private pumps that were also used.
The 1997 flood marks the first year that all of the City's 29 major permanent flood pumping stations were operated. Both Winnipeg and Manitoba Hydro staff worked closely with Water and Waste staff to assure reliability of power supply to these critical facilities on a first priority basis during the flood period.
Throughout the flood emergency, City crews worked hard to plug holes, creek crossings, culverts and rail crossings to make sure that water did not get past the City's primary dike and to ensure maximum protection from flood waters.
Winnipeggers Cleaned Out Their Basements
Sewer back-up. Most citizens will remember moving numerous items from their basements, after the City advised them of possible sewer back-up. It was possible and it happened in 1950. But why was the City so concerned about sewer back-up?
Here's a quick lesson: When the river is high, the City's flood pumping stations can only operate at a maximum of 60 percent of normal sewer capacity. Storm sewer flow is assisted by temporary pumps which take runoff water from the system and pump it directly over the dikes and into the river.
During periods of heavy rain combined with high river levels, the combined sewer system may not have enough capacity in certain areas to handle the flow. When this happens, sewage and rainwater backup can occur. Many of Winnipeg homes are at a greater risk of sewer back-up because of combined sewer systems, which carry both sanitary sewage and runoff water.
To alleviate this problem, City crews sealed sewer connections, where necessary, sealed wastewater manhole covers to protect against infiltration and prepared contingency plans to isolate water and sewer services in risk areas, to protect property and reduce risk of damage from sewer backup in evacuated areas.
Unfortunately, as a result of approximately 30 millimeters of rain on May 8, 1997 a total of 74properties reported sewer back up and flooding of basements. The hardest hit area was Fort Garry, where approximately 45 homes were affected.
Water Quality
During the flood crisis, the City of Winnipeg's water quality was never threatened. Since Winnipeg's water comes from Shoal Lake via the aquaduct, the City's water supply was not affected by the Red and Assiniboine floodwaters.
City crews did turn water off to homes that were serviced with septic fields which were affected by the high ground water. Portable water, trailers and portable toilets were supplied to these areas.
Coordinating Public Utilities: Water, Sewer, MTS, Hydro, Gas
All the different utilities worked together throughout the emergency. Firstly, they worked to shut off their services in the evacuated areas - no small task considering the number of residents evacuated. Once the threat of flooding had passed, they worked to restore all utilities for residents returning home. A coordinated effort that was much appreciated by all those evacuated!
The description of services in this section reflects the City structure in 1997. Since this time the City of Winnipeg Organizational Structure has changed significantly.
Current City Structure
Last update: September 30, 2014