Flood of the Century
Going Home
As big a job as it is to evacuate a neighbourhood over a 24 hour period, sending people back to their homes and businesses is a far more complicated task, as the City's Flood Re-entry Team discovered.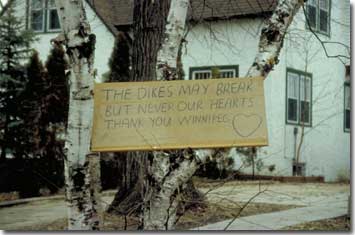 The 40-member team met 10 times over eight days to plan, coordinate and manage the safe return of citizens to their evacuated homes and buildings.
The team was responsible for dikes and road access concerns, Police, Fire, Ambulance, water, sewer, Building Inspections, health, Transit, the Emergency Operations Centre (EOC), and Emergency Public Information (including the Flood Hotline call centre). Also on the team were representatives from Centra Gas, MTS, Manitoba Hydro, the Provincial Emergency Measures Organization (EMO), and the Canadian Armed Forces.
One of the primary objectives of all emergency response planning is to return the situation to normal as quickly as possible. The Re-entry Team recognized the stress and inconvenience caused by being evacuated. Their goal was to get people back to their homes as quickly, efficiently and safely as possible. Before people could go home a number of criteria had to be met. On the day of re-entry, City workers and local utility representatives were in each area to assist with the re-establishment of services.
The Team prepared information packages for all returning residents, customized to the specific needs of ten different areas. The packages were distributed at Police checkpoints or placed in mailboxes. They included information on all utilities, what to expect in terms of possible flood damage to property, basic services (e.g.. garbage, postal delivery), water and dike safety, general cleaning tips, disaster financial assistance, dealing with stress, and - where applicable - information on testing and treating well or cistern water and septic systems.
In total, 2,320 homes and businesses were evacuated in Winnipeg, representing an estimated 9,000 people. Between May 8 and 17, 1997, all but about 125 people (54 homes) had returned. Police checkpoints ensured that only residents were allowed in until most people were back in the community.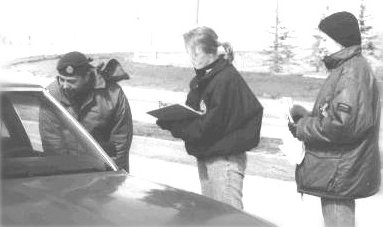 There were some complicating factors. Some neighbourhoods, such as Kingston Row/Crescent, as well as some individual homes had modifications made to their plumbing systems when they were evacuated, to prevent river water backup into their house. That meant sewer service to the main floor had to be restored before people could return.
Staff from Building Inspections dealt individually with residents of flooded properties to provide them with appropriate assistance and advice for clean-up, repair, and resettlement needs.
Fire Department officials worked directly with building managers of evacuated apartment buildings on Pembina Highway and Roslyn Road to ensure the buildings were safe for the return of tenants.
Last update: September 24, 2014