Flood of the Century
Reflections
Animal Services Officer Helps Man's Best Friend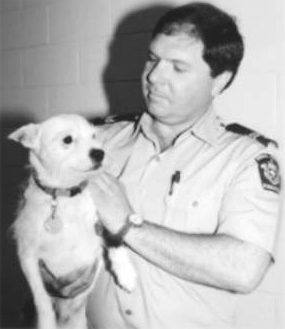 During the Flood crisis we heard a lot about sandbagging, diking, etc. Here is a special story about officer Ted Turk of Animal Services Division and a frightened 30 pound crossbred terrier.
On May 8, while working extended flood hours Ted received a call about a dog stranded in the river. He drove off to the Crestview area on Churchill Drive just behind the Riverview Centre. When he arrived at the scene, a number of people were gathered helplessly watching the dog.
In the garden plots that lead to the swollen Red River, was a yelping dog with mud up to its belly stuck in the river, was unable to get free. Ted put on a pair of rubber boots and gloves and started walking through this garden plot to rescue the dog.
"The ground was like silt and extremely soft. As I took each step, I sank lower and lower in the Red River gumbo," said Ted. "With each step I tried to take, the boot felt like it was being sucked into the gumbo, like suction cups. So I had to hold onto the rubber boots with my hands to pull up the boot with each step." For Ted there was no turning back now.
"When I got close to the dog, I was with mud up to my knees," commented Ted. "The dog was very old, fragile and my next challenge was how to get back."
He grabbed the terrier, who continued to bark and snap, around the belly and tucked it under his arm. Now the journey back. "Walking back, I had to alternate the dog from one arm to the other to keep the opposite arm free to reach down and hold the boots on with every step I took."
"Only half ways back, I was exhausted. I thought to myself maybe if I extended my steps I would get back quicker. As I tried, I lost my balance and fell into the mud."
Ted and the terrier finally reached safety and the cheering crowd. Ted was lucky to have his own vehicle where he was able to change. Both headed back to Animal Services where the dog was bathed and tucked into bed for the night.
It took Ted approximately 45 minutes to reach the dog and one hour to reach safety. With the ordeal over, Ted was relieved that a citizen did not attempt to save the terrier.
Experiences Shared
Sally Pollock, Colleen Vaughan & John Oakley
Instructors
Provincial Emergency Program Academy
New Westminister, British Columbia
The Provincial Emergency Program Academy Instructors and the Volunteer Coordinator of the Emergency Social Services Program Office who toured the City of Winnipeg's Flood Response, want to thank you for taking the time to meet and share your experience with us.
As Instructors, we work with individuals, agencies and governments that will have a role in a disaster response in our Province. Gaining information and lessons learned from those who have experienced disaster first hand is extremely valuable. Much of our training is textbook and needs to be substantiated with disaster data to ensure its credibility.
We recognized how busy you had been prior to our visit and hopefully we didn't inconvenience you too much with our many questions and cameras. Your knowledge, experience and willingness to share these with us, was very much appreciated. Everywhere we toured we were impressed with the organization and professional handling of the response. We would like to hope that our Province would manage as well.
Once again, thank you for all your support.
Memorable Moment
Donna Karlik
Program Supervisor
Southeast Area, Parks & Recreation
The Center was almost running out of toys the second week in May. Karen Mathieson and Darrell Scarrett asked the Red Cross if they knew of any toys that may be available. The Red Cross staff assisted them in looking at a trailer full of boxes that had just arrived from Saskatchewan. They discovered boxes full of toys given to Manitoba children from children in a school in Estevan, Saskatchewan. As the staff read the letters from each child who wrote to the Manitoba children, they realized that these children had a deep understanding and truly sympathized with our children who had suffered so many losses during the flood.
In May, the newspaper ran a story of a child named Amanda whose birthday was on May 25 and whose parents could not afford to give her birthday present. The article mentioned Darrell Scarrett and the St. Vital Play Center as giving toys to children flood evacuees.
After the story was published, an elderly lady came to the center looking for Darrell. She refused to be identified but told Darrell she had a granddaughter named Amanda who also had a birthday on May 25. She gave Darrell a new toy to be given to the Amanda mentioned in the story. When Darrell saw the father of Amanda later that day, tears sprung from his eyes as he accepted the gift for his daughter.
This is one of the many acts of kindness that will not be forgotten.
Red River Rising
Darrell Scarrett
Recreation Technician
Parks & Recreation
We fought side by side
with neighbours and friends;
Yet the Red River kept rising,
without end.

Some of us won our battle,
others though had to admit defeat;
That old Red River rising,
had us beat.

In tears we saw our homes,
our dreams washed away;
In fear we clutched our loved ones,
wondering what price we would pay.

Weeks of worry and endless
questions went by;
And finally we knew again,
we must try.

To clean up, rebuild,
become stronger;
So that rising old Red River
would defeat us no longer.
Off on a Mission
Janet Kellner
Legal Services Division
Internal Services
Well I'm off to St. Norbert,
on a mission as dike patrol;
Got my floater jacket, flashlight
and I'm in control;
Gotta pick up my buddy alright,
ready for the big flood fight;
First night on the road,
and I'm gonna make it home tonight.
The Red is roarin,
and still hasn't reached its peak;
The pump is running,
and sucking out every leak;
There isn't a body in sight,
just the frogs in the pale moonlight;
Six days on the road,
and I'm gonna make it home tonight.
My knees are weak,
and my eyes are beginning to close;
I'm wearing five socks,
and I still can't feel my toes;
But my dike is holding tight,
can't see a leak in sight;
Ten days on the dike,
and I hope I'll make it home tonight.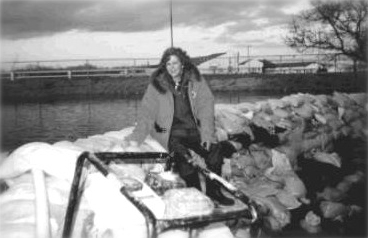 Dike Monitor's Lament
(Night Shift - 7:30 pm - 7:30 am)
Janet Kellner
Legal Services Division
Internal Services
Mr. Sandman, bring me some bags,
My dike is leaking, in places it sags;
I'm out of gas and can't fill the pump,
Before the night is over - sore is my rump.
Sandman, I'm all alone,
With just my buddy to call my own;
So please turn on your sand machine.
Mr. Sandman, bring me -
please pleeease bring me -
Mr. Sandman get on the scene,
Before my body's upstream.
Civic Employees Earn Praise
Allan Hamer
Winnipeg Free Press
Wednesday, May 7, 1997
Reader's Forum
Many of us, myself included, have been openly critical in the past, often justifiably, of our municipal government. The City of Winnipeg's politicians, officials and employees always get slammed for their mistakes, but rarely get praise when praise is due.
Now is the time to praise them, and thank them all from the high profile leaders, to the engineers, to the clerical staff, to the equipment operators, to the sandbag fillers. These are the same people who are saving our properties and our very lives from floodwaters of truly biblical proportions. Our community owes its very existence to you and we all want to thank you.
Thank you for caring, your energy, and your long hours.
Hats off to the City for a great job during the Flood.
A standard of excellence!
Comment provided by citizen on water bill
Last update: September 30, 2014