Welcome to Living Prairie Museum
Face masks are strongly recommended for the public. Please avoid visiting if you are feeling unwell.
On recommande fortement que le public porte un masque. Veuillez éviter de vous rendre sur les lieux si vous ne vous sentez pas bien.
The Living Prairie Museum is a 13-hectare tall grass prairie preserve and nature park. Set aside in 1968, the preserve is home to more than 150 different grass and wildflower species and an array of prairie wildlife.
Prior to European settlement, tall grass prairie covered more than 1 million square kilometers in central North America, stretching from Texas to southern Manitoba. Today, this habitat is all but gone - only 1 percent of the original tall grass prairie remains. The Living Prairie Museum is one of the few remaining fragments of this once vast ecosystem.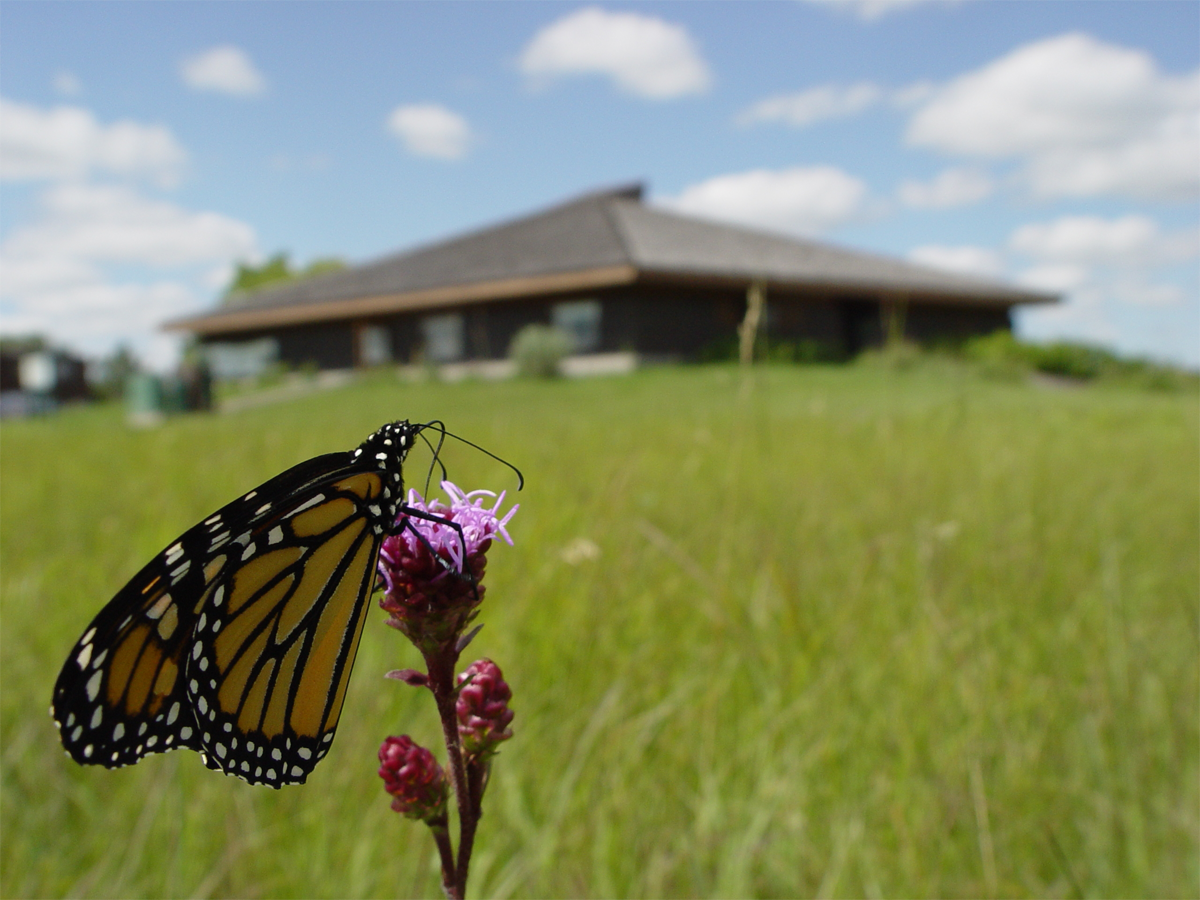 The Living Prairie Museum's goal is to promote awareness and conservation of natural areas, specifically tall grass prairie, through environmental education.
Prairie Planting Workshops at the Living Prairie Museum
Instructor John Morgan will help you increase biodiversity in your backyard. Find out how prairie species can be included in your landscape designs, and why using native plant material is important for conservation. These beginner workshops guide participants through site preparation, seed germination, and planting for flower beds or larger prairie restorations.
Four workshops are available, each focusing on a different prairie planting subject.
Workshops will be held in-person at the Living Prairie Museum at 2795 Ness Ave.
Members of the Friends of the Living Prairie Museum may register at a reduced rate.
Price: $15.00 + GST for non-members, $10.00 + GST for members.
Register online below.
Introduction to Using Native Manitoba Wildflowers, Grasses & Shrubs
Thursday, April 13, 7:00 p.m. - 8:30 p.m.
In-person at the Living Prairie Museum, 2795 Ness Ave.
Learn about the rationale and benefits of landscaping with Manitoba's native plant heritage. Beautiful, hardy and perennial, native Manitoba species can add colour, visual interest, songbirds, butterflies and a sense of our history to your property.
Introduction to Growing Manitoba Native Plants from Seed
Saturday, April 15, 1:00 p.m. - 2:30 p.m.
In-person at the Living Prairie Museum, 2795 Ness Ave.
This workshop will focus on native seed germination, growing and planting Manitoba's wonderful natural diversity. Take home a native seed kit with easy to grow wildflowers.
Manitoba Wildflowers, Grasses & Shrubs from A to Z
Thursday, April 20, 7:00 p.m. - 8:30 p.m.
In-person at the Living Prairie Museum, 2795 Ness Ave.
Enjoy the colourful and fascinating folklore of a kaleidoscope of over one hundred native species. Their natural history and uses in a prairie garden will be covered in detail.
Managing your Native Manitoba Landscape
Saturday, April 29, 1:00 p.m. - 2:30 p.m.
In-person at the Living Prairie Museum, 2795 Ness Ave.
This workshop is for those who already have a native planting. How to deal with non-native weeds, enhance diversity by adding species, attracting butterflies and other pollinators. This session will assist you in maintaining the health and beauty of your existing native landscape. Also suitable for people lucky enough to have an original native prairie remnant and wishing to know how best to manage your land.
Environmental Education Programs
Living Prairie Museum is pleased to offer in-person environmental education programs. Please review our program brochure and contact us by phone or email to discuss your booking.
Self-Guided Trails
Our self-guided trails are available from dawn until dusk. The trail system is an opportunity to see and learn about some of the most endangered habitat in the world. Please stay on the designated paths during your visit. A reminder that this is an on-leash park – please clean up after your pets.
Winter Self-Guided Trail booklet viewing format
Winter Self-Guided Trail booklet to print
Living Prairie Museum Medicine Garden
As part of our commitment to reconciliation, a medicine garden has been planted in collaboration with the Living Prairie Museum, Indigenous Relations Division, and a local Indigenous Elder. The garden features sage and sweetgrass, two of the four Sacred Medicines which naturally occur in the tall grass prairie.
The medicine garden is located in the nature park west of the preserve at the north end of Prairie View Road at Ness Avenue. It can be harvested by the public during the summer, but care and attention are needed to maintain the garden. Only harvest what is needed, taking only the leaves and leaving roots and seeds to allow the plants to regenerate between harvests.
It is good practice to consult with an Elder to learn more on the harvest and use of sacred medicines.
More information on the Directional Teachings and the Four Sacred Medicines, as shared by Elder Carolyn Moar.
More information
Hours
May and June – Sundays, 10:00 a.m. to 5:00 p.m.
July and August – Daily, 10:00 a.m. to 5:00 p.m.
September – Sundays, 10:00 a.m. to 5:00 p.m.
Outside of public hours, please call to make an appointment.
Location and contact information
The Interpretive Centre is located at:
2795 Ness Avenue Winnipeg, Manitoba R3J 3S4 Phone: 204-832-0167 Fax: 311
Last update: March 22, 2023