Ward Boundaries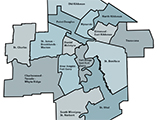 Under The City of Winnipeg Charter, for electoral purposes, the City is divided into 15 Council Wards.
Section 12(c) of The City of Winnipeg Charter specifically provides that a Wards Boundaries Commission is to be convened and is to prepare a report establishing the boundaries and the name of each ward for the City of Winnipeg, "at such times as council may require, which shall be at least once every 10 years after the preceding report was prepared." On February 24, 2016, City Council directed the Winnipeg Public Service to establish a Wards Boundaries Commission in 2017.
In December of 2017, the Wards Boundaries Commission released its
final report
establishing new boundaries for the City's 15 Council Wards.
The report recommendation will come into force September 17, 2018
, on the day before the close of the nomination period for the 2018 Civic Election, and will apply to all candidates and voters, alike. As such, all of the maps and legal descriptions below reflect the changes
Resources
Last update: August 24, 2018