Smoke Alarms
Protect Yourself and Your Family Today! In the event of a fire, properly installed and maintained smoke alarms will provide an early warning alarm to your household.
This alarm could save your own life and those of your loved ones by providing the chance to escape.
Types of smoke alarms
There are several different types of smoke alarms available on the market:
Ionization smoke alarms: this type of smoke alarm is the most common smoke alarm installed in homes. It detects a fast burning fire, such as paper or flammable liquids.
Photoelectric smoke alarms: this type of smoke alarm is an optical alarm that uses infrared light and a photoelectric receiver to detect smoke in the air. This typically detects smoldering fires where there is a lot of smoke but very little flame. An example would be a sofa burning as a result of a cigarette falling between the cushions.
Combination ionization & photoelectric: this type of smoke alarm uses both scientific methods to detect smoke; however, many of them do no bear the ULC or CSA label and may not have undergone testing to ensure they meet the ULC standards for smoke alarms. Do no purchase or install one that does not bear one or both of these labels.
For optimum smoke alarm response to fire the National Fire Protection Association recommends that each home install at least one of each type of photoelectric and ionization smoke alarms.
Winnipeg Fire Prevention recommends that at least one ionization and one photoelectric smoke alarm be installed in all residential dwellings to provide early warning from any type of fire.
Why Should My Home Have Smoke Alarms?
Working smoke alarms are required by law. They are a very important means of preventing house and apartment fire fatalities by providing an early warning signal--so you and your family can escape.
Smoke alarms are one of the best safety devices you can buy and install to protect yourself, your family, and your home. Current Manitoba Building Code requirements may have different requirements.
Where is the best place to put my smoke alarms?
Recommended Smoke-Alarm Installation for Separated Sleeping Areas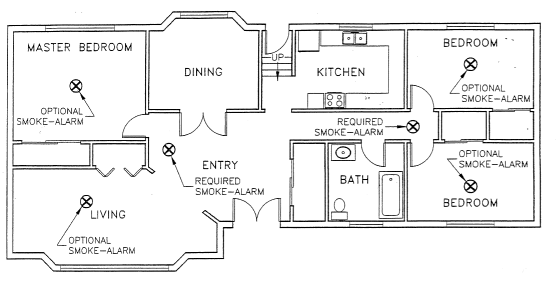 Recommended Smoke-Alarm Installation for Typical Apartments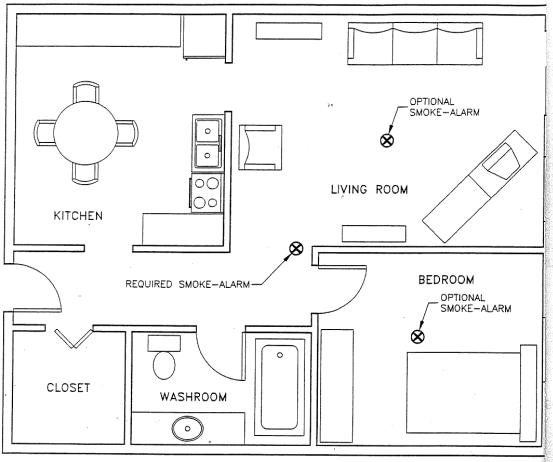 Last update: June 20, 2018