How we work with civic department partners to develop opportunities for youth
Stream Two: activities involve building partnerships with civic departments to develop youth-focused initiatives that engage Indigenous youth in the civic system. This includes work placements, internships, summer career weeks, scholarships, and unique training programs that build resumes and strengthen employment skills.
During the first five years of the strategy multiple outcomes have been achieved under the City of Winnipeg's Indigenous Youth Strategy, Oshki Annishinabe Nigaaniwak (OAN). From 2009 to the end of 2013 the following notable outcomes are a result of working in partnership with our civic department partners such as Winnipeg Transit, Corporate Support Services, Community Services, Corporate Finance, Animal Services Agency, Water & Waste, and Winnipeg Fire Paramedic Service:
Highlights from 2009 - 2013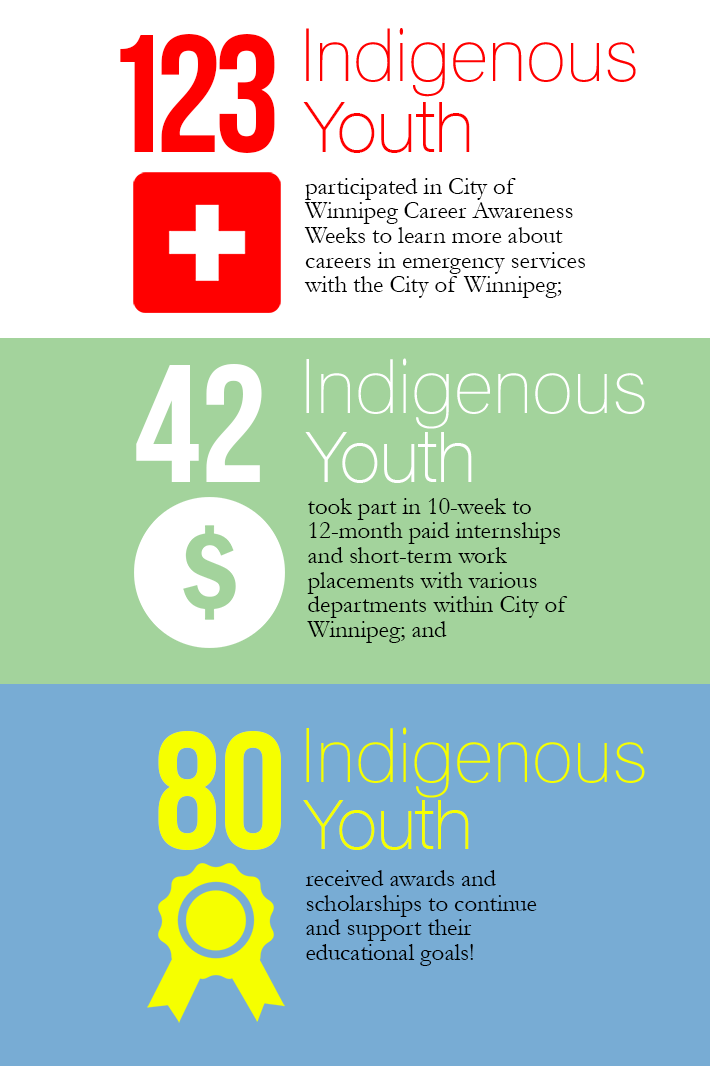 Download stream two infographic
Turtle Island Neighbourhood Centre from 2012 to 2014 saw large increases in youth visits and leadership involvement in senior youth and junior youth councils; recreation activities; onsite movie nights, traditional Indigenous cultural events and activities; and a place for youth to gather within their community and participate - for the first half of 2014 over 14,000 youth visits were reported!
To learn more about OAN's initiatives and activities please view our most recent Annual Report.