Symbol Design
Symbol Design Project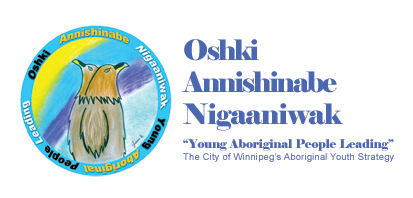 After the passing of tobacco to Elders, a naming ceremony was held on August 7, 2009. Oshki Annishinabe Nigaaniwak, which is Ojibway meaning 'Young Indigenous People Leading' was the name given as a reminder that youth are leaders of today as well as tomorrow. The Elders and helpers shared visions that appeared during the ceremony.
One saw a young eagle with a brown head, as the white heads don't appear until they are older, and wings pointing down at its' sides. An Elder saw a rainbow, which are viewed as Ribbons of the Sun in Indigenous culture, with a dominant blue color that was so bright, it almost glowed. It was suggested Indigenous youth be engaged to develop a symbol that would incorporate these visions.
Following the naming ceremony, Oshki Annishinabe Nigaaniwak approached Ndinawemaaganag Endaawaad Inc. to partner with its art program on a symbol design contest where youth would design the symbol for use on all future strategy communication products.
In a sharing circle, participant artists were presented the spirit name, visions, and teachings gifted to the strategy and asked to prepare submissions. There were many amazing contributions from numerous and talented budding artists.
Jasmine B, age 15, created the original hand drawn artwork that was selected to represent the strategy. The symbol shares the visions shared while also presenting the equality and diversity of Indigenous peoples: two eagles that are equal, eye colour representing diversity and standing proud.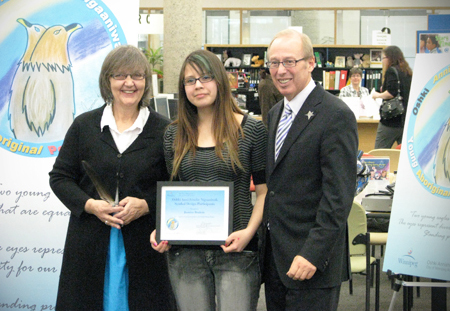 Jasmine was awarded a gift card in recognition of her fabulous submission and acknowledged at a ceremony on March 18, 2011. Two additional artists were awarded gift cards for their second and third place submissions while all other participants received movie passes.
The symbol design project was a great success thanks to the partnership with Ndinawemaaganag Endaawaad Inc., as well as the many Indigenous youth artists who participated. Oshki Annishinabe Nigaaniwak thanks all involved!
In 2012, Graham Constant, an Indigenous youth intern involved with the Oshki Annishinabe Nigaaniwak communication strategy, developed a digitized version of the symbol based on Jasmine's original artwork.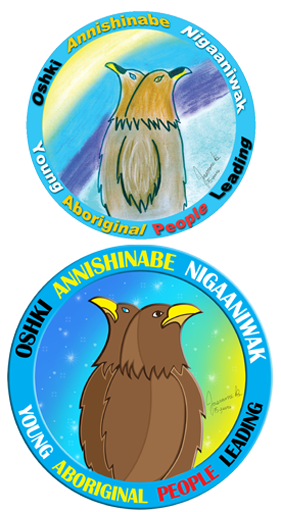 Last update: August 2, 2016