The City's role in Small Cell Technology
The Government of Canada is responsible for regulating all forms of cellular technology, while the City of Winnipeg (City) has a role in guiding the location, design, and communication with the community for the introduction of antenna systems on assets in Winnipeg.
The City's role in antenna systems is partially defined in the Winnipeg Antenna Systems Policy (WASP). The policy outlines the City's recommended public consultation process, design and other development standards for the siting and placement of telecommunication towers and antennae. The policy also provides guidance to the telecommunications industry, Innovation, Science and Economic Development Canada (ISED) Canada, City Council, all City of Winnipeg departments, and Winnipeg residents to manage the introduction of antenna systems in the city.
As part of the Small Cell Technology Review, the City is coordinating with cellular wireless service providers to review how the WASP applies to 5G and small cells, and determine what, if any, amendments need to be made.
This illustration and chart highlights common infrastructure in Winnipeg where antenna systems, including small cells, may be installed, and explains the City's role in each installation: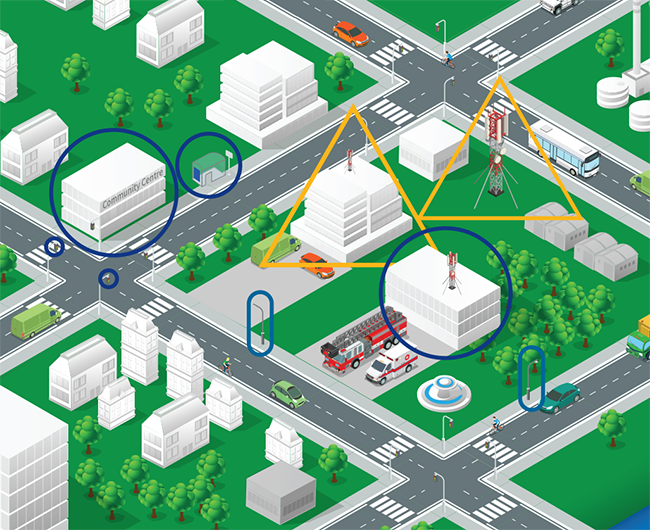 Legend
City-owned assets
Towers or small cells on/in City-owned land or buildings.
City role
City lease agreement in/on buildings
Permit/s on rights-of-way
Letter of concurrence/non-concurrence on buildings/structures based on conformity with the WASP
Examples
City-owned/public buildings
City-owned poles (e.g. ornamental street lights)
Transit shelters
Traffic signal poles
Manitoba Hydro infrastructure
Installations of antenna/small cells on existing Manitoba Hydro infrastructure through lease agreements with Manitoba Hydro and exempted under the City Encroachment By-law.
City role
Examples
Manitoba Hydro poles on back lanes, etc.
Street light standards
Privately owned lands/buildings
Exempt locations
Locations where antenna system proposal review and public consultation is exempted by the Winnipeg Antenna System Policy.
City role
Examples
Inside buildings
Where the antenna installation does not increase the height of the structure by more than 25%
Freestanding towers less than 15m in height (e.g. amateur radio towers)
An increase in height to an existing freestanding tower no greater than 25% of initial height.
Temporary antenna systems
Maintenance, minor modification, and relocation within the same site
Private sites
Lease agreements with individual property owners for sites available on the open real estate market.
City role
Letter of concurrence/non-concurrence on buildings/structures based on conformity with the WASP
Examples
Freestanding towers
Rooftop antenna installations
Antenna attached to buildings