Off-leash dog areas
Rules of use
Attention dog owners
Dog owners can let their pets socialize and exercise off-leash in a safe environment.
Please remember to keep your dog on a leash when you are outside of the Off-leash Area. Other park users may not appreciate loose animals running up to them or may be afraid of dogs.
Off-leash dog areas are not fenced in, unless otherwise noted below.
Dog owners/ walkers and or commercial dog walkers are legally responsible for their own dog(s) and any injuries or damage caused by their dog(s). Individuals who choose to use off-leash areas do so at their own risk.
Code of Ethics for Dog Owners
Sponsored by the City of Winnipeg Parks and Open Space Division in cooperation with the Animal Services Agency.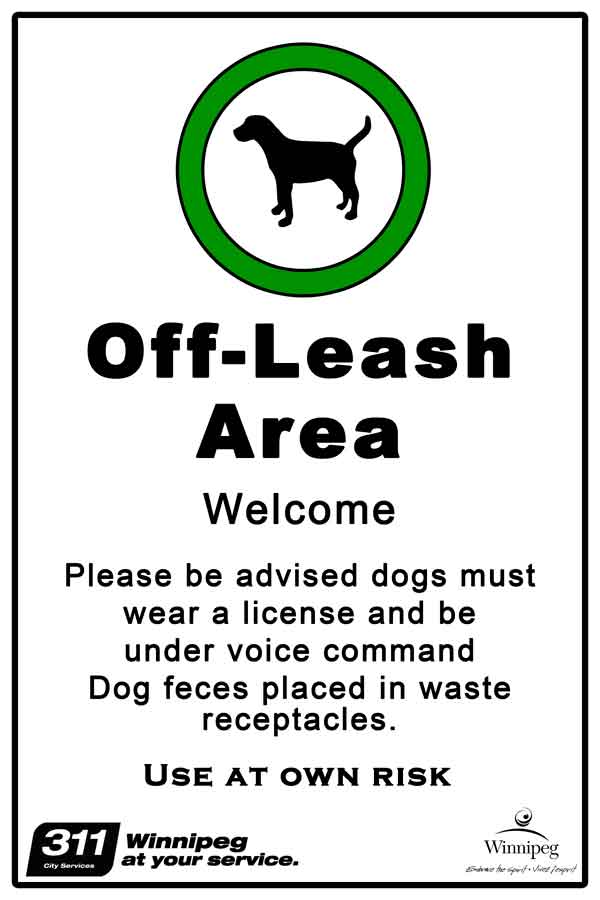 Dog owners must be present and within view of their dogs at all times.
Aggressive dogs are not allowed in off-leash areas.
Dogs must be under voice control while off-leash.
Dog owners must have a leash in hand at all times.
Female dogs in heat are not allowed in off-leash areas.
Holes dug by dogs must be filled by the dog owner.
All feces must be picked up by the dog owner and removed or deposited in waste receptacles.
All dogs must be licensed in accordance with the City of Winnipeg Responsible Pet Ownership By-law 92/2013. Please contact 311 for more information.
All sites are open 7 a.m. to 11 p.m. or as posted at the site.
A complete list of rules is posted at each site. For further information about off-leash dog areas, contact 311.
Code of Ethics for all dog owners in off-leash areas
Stoop & Scoop - Please use plastic bags to pick up after your dog.
Train Your Dog - Please train your dog to respond to commands, whether on or off-leash.
Respect other users of the park - Walkers, joggers, cyclists, skiers, and other dog owners have a right to enjoy.
Proper Licensing is required - Please ensure your pet is properly licensed.