Welcome to Living Prairie Museum
The Living Prairie Museum is a 13-hectare tall grass prairie preserve and nature park. Set aside in 1968, the preserve is home to more than 150 different grass and wildflower species and an array of prairie wildlife.
Prior to European settlement, tall grass prairie covered more than 1 million square kilometers in central North America, stretching from Texas to southern Manitoba. Today, this habitat is all but gone - only 1 percent of the original tall grass prairie remains. The Living Prairie Museum is one of the few remaining fragments of this once vast ecosystem.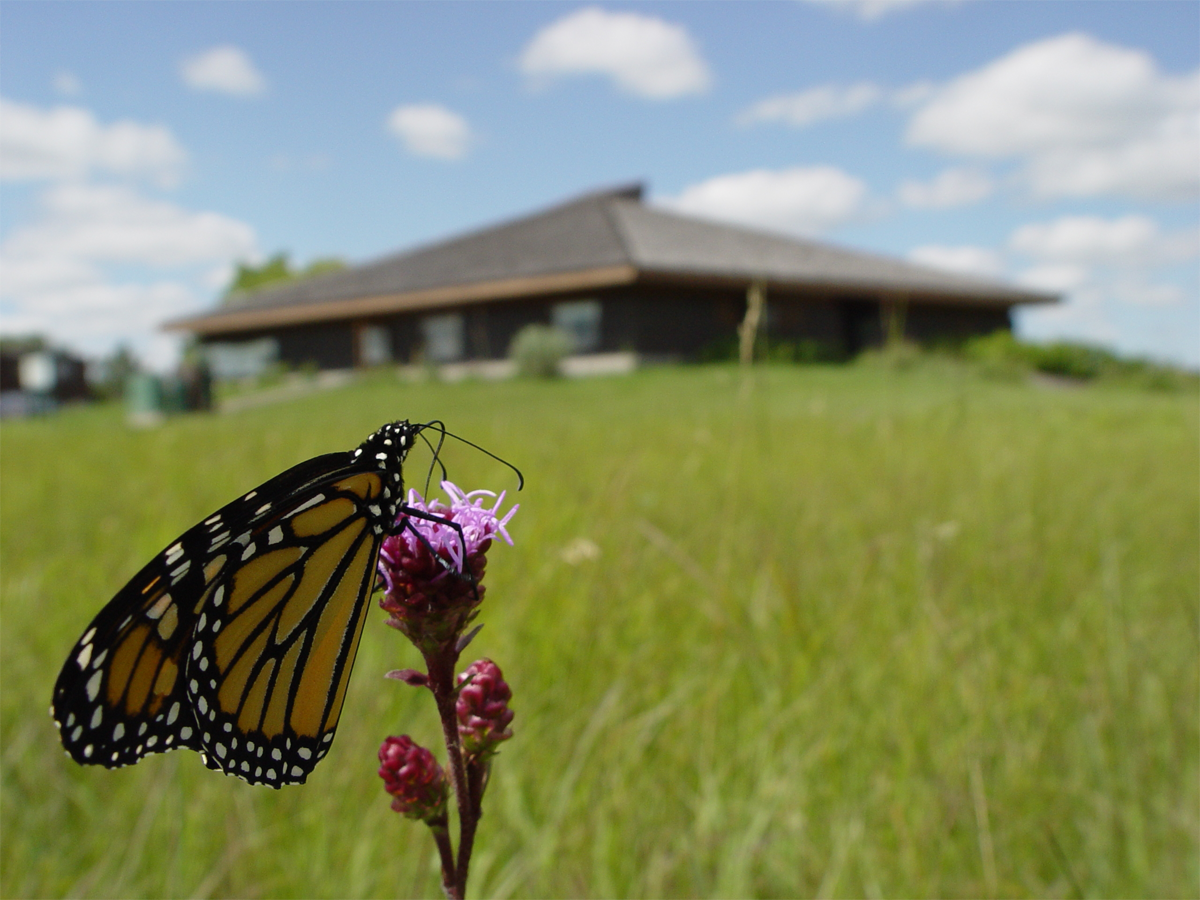 The Living Prairie Museum's goal is to promote awareness and conservation of natural areas, specifically tall grass prairie, through environmental education.
Winter Speaker Series
The Winter Speaker Series returns on January 16. We hope you can join us for these fascinating topics! Presentations are in-person and virtual hybrids, or virtual only, so please refer to the list below for details.
Sessions take place on Tuesdays, 7:00 – 8:30 p.m. There will be live ASL interpretation for each event.
Friends of the Living Prairie Museum members may register in advance. Public registration opens two weeks before each session. Registration is accepted through Eventbrite.
Public registration opens on January 2, 2024 – please watch our website for links!
Coexisting with Wildfire – Learning from the Past and Adapting for the Future
Tuesday, January 16, 7:00 p.m. - 8:30 p.m.
Virtual only
Dr. Lori Daniels, Centre for Wildfire Coexistence, University of British Columbia.
Wildfire is an essential ecological process, but can be incredibly destructive in the wildland-urban interface.  Dr. Daniels will share insights from British Columbia where understanding historical wildfires and Indigenous fire stewardship guides steps for society to adapt and coexist with wildfire.
Skippers, Longspurs, and Lady's-slippers: Rare Species of Manitoba's Grasslands
Tuesday, January 30, 7:00 p.m. - 8:30 p.m.
In-person and virtual
Chris Friesen, Manitoba Conservation Data Centre
Come learn about rare species in Manitoba and what's being done to monitor and conserve them. What does it mean when a species is rare or "endangered?" Who decides and how? Answers to these questions, and more!
Niiyaap Ninabatoomin Wendakaneziin (Restoring Our Roots)
Tuesday, February 13, 7:00 p.m. - 8:30 p.m.
In-person and virtual
Taylor Galvin, Brokenhead Ojibway Nation/University of Manitoba/ The Wildlife Society-MB Chapter
Learn about First Nations ecology, restoration, and natural resources.
Connectivity of Poweshiek Skipperling Habitat in the Manitoba Tall-Grass Prairie Preserve
Tuesday, February 27, 7:00 p.m. - 8:30 p.m.
In-person and virtual
Dr. Katherine Dearborn, Dept. of Environmental Studies and Sciences, University of Winnipeg
The Manitoba Tall-Grass Prairie Preserve contains some of the last remnants of tall-grass prairie habitat in Canada, but patches of habitat are often separated from one another by forests or croplands. Learn about the work being done to improve the connectivity of habitat so that the Poweshiek skipperling - an endangered prairie butterfly - can move more freely.
Native Plants for Native Lawns
Tuesday, March 12, 7:00 p.m. - 8:30 p.m.
In-person and virtual
Ash Burkowski, Friends of the Living Prairie Museum
Say goodbye to boring, high-maintenance non-native grass lawns and hello to a beautiful, sustainable native garden! Join Ash Burkowski, local native plant expert and avid gardener, for an updated presentation highlighting low-growing and mowable native species while sharing practical techniques for creating a stunning and eco-friendly yard.
Snowshoe Sundays
Want to give snowshoeing a try? Visit us for free, one-hour rentals in January and February! Our sizes are best suited to ages 5 and up. No reservations required – first come, first served. Additional dates are weather-dependent, so watch our website for updates.
Snowshoe programs for schools and childcare groups are available by appointment. Please contact us to complete your booking.
January 28 – 10:00 a.m. to 3:00 p.m.
February 11 – 10:00 a.m. to 3:00 p.m.
February 25 – 10:00 a.m. to 3:00 p.m.
Environmental Education Programs
Living Prairie Museum is pleased to offer in-person environmental education programs. Please review our program brochure and contact us by phone or email to discuss your booking.
Self-Guided Trails
Our self-guided trails are available from dawn until dusk. The trail system is an opportunity to see and learn about some of the most endangered habitat in the world. Please stay on the designated paths during your visit. A reminder that this is an on-leash park – please clean up after your pets.
Winter Self-Guided Trail booklet to print
Living Prairie Museum Medicine Garden
As part of our commitment to reconciliation, a medicine garden has been planted in collaboration with the Living Prairie Museum, Indigenous Relations Division, and a local Indigenous Elder. The garden features sage and sweetgrass, two of the four Sacred Medicines which naturally occur in the tall grass prairie.
The medicine garden is located in the nature park west of the preserve at the north end of Prairie View Road at Ness Avenue. It can be harvested by the public during the summer, but care and attention are needed to maintain the garden. Only harvest what is needed, taking only the leaves and leaving roots and seeds to allow the plants to regenerate between harvests.
It is good practice to consult with an Elder to learn more on the harvest and use of sacred medicines.
More information on the Directional Teachings and the Four Sacred Medicines, as shared by Elder Carolyn Moar.
More information
Hours
May and June – Sundays, 10:00 a.m. to 5:00 p.m.
July and August – Daily, 10:00 a.m. to 5:00 p.m.
September – Sundays, 10:00 a.m. to 5:00 p.m.
Outside of public hours, please call to make an appointment.
Location and contact information
The Interpretive Centre is located at:
2795 Ness Avenue Winnipeg, Manitoba R3J 3S4 Phone: 204-832-0167 Fax: 311
Last update: December 8, 2023