Welcome to Living Prairie Museum
Face masks are strongly recommended for the public. Please avoid visiting if you are feeling unwell.
On recommande fortement que le public porte un masque. Veuillez éviter de vous rendre sur les lieux si vous ne vous sentez pas bien.
The Living Prairie Museum is a 13-hectare tall grass prairie preserve and nature park. Set aside in 1968, the preserve is home to more than 150 different grass and wildflower species and an array of prairie wildlife.
Prior to European settlement, tall grass prairie covered more than 1 million square kilometers in central North America, stretching from Texas to southern Manitoba. Today, this habitat is all but gone - only 1 percent of the original tall grass prairie remains. The Living Prairie Museum is one of the few remaining fragments of this once vast ecosystem.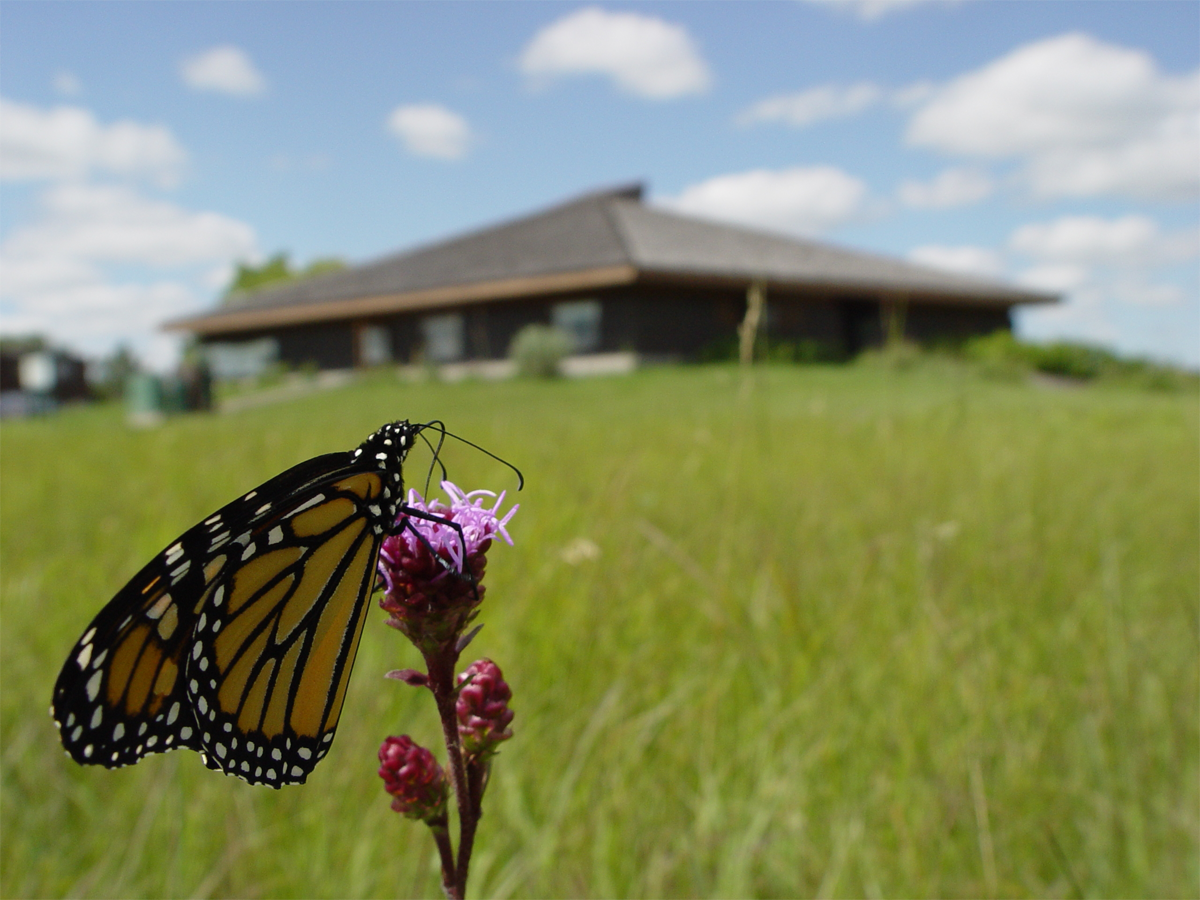 The Living Prairie Museum's goal is to promote awareness and conservation of natural areas, specifically tall grass prairie, through environmental education.
Snowshoe Sundays start January 15

The free event begins January 15 and runs every Sunday through the end of February from 10 a.m. until 4 p.m. No experience is necessary and snowshoes are loaned out for free on a first come, first served basis.* Just make sure to bring winter boots. You can also sit by the fire and visit the interpretive centre.
*Due to a limited number of snowshoes, we cannot accommodate daycares, school groups, or large group outings on Snowshoe Sundays. Please call us to book a snowshoe program for your group.
For more information or to book a group outing, call 204-832-0167 or email prairie@winnipeg.ca.
Winter Speaker Series
The Winter Speaker Series returns on January 24. We hope you can join us for these free and fascinating online presentations!
Webinars take place on Tuesdays, 7:00 to 8:30 p.m. The series is hosted by the Friends of the Living Prairie Museum over Zoom.
Online registration begins two weeks prior to each event.
January 24 - Exploring Manitoba's Winter Wilderness: Hiking Tips and Trails
Jaime Manness, Hike Manitoba
Join expert hiker Jaime Manness, founder of Hike Manitoba, whose vision to encourage and empower folks of all ages to venture out and explore our province in an environmentally conscious way. Learn about some of the best winter hiking trails, leave-no-trace principles, and safety tips so people and pets can make the most of Manitoba's winter wilderness!
February 7 – Mission Monarch – A Community Science Program for Monarch Conservation in Canada
Agathe Moreau – Mission Monarch – REGISTER ONLINE
In this webinar, we will discuss basic monarch biology, the conservation context in Canada, and provides a community science framework to take action. Participants will learn how to document the presence of monarchs and milkweed in order to help the scientific community protect this endangered species.
February 21 – The Fungus Among Us: Manitoba's Fungal Diversity
Dr. Diana Bizecki Robson, Manitoba Museum
Foraging for mushrooms can be extremely rewarding, yet daunting for beginners. Learn about identifying Manitoba's mushrooms, lichens and more, and some tips on how to stay safe while foraging.
March 7 – An Ecological Approach to Planting Native Species
John Morgan, Prairie Habitats Inc.
Conserving and enhancing biodiversity is not often the main goal of native plantings, but it certainly could be. John Morgan will share his decades of experience with managing and restoring prairie habitats, and will discuss how to build a native garden as a functioning ecosystem.
March 21 – Native Plants for Native Lawns
Ash Burkowski, Friends of the Living Prairie Museum
Say goodbye to boring, high-maintenance lawns and hello to a beautiful, sustainable garden filled with native plants! Join Ash Burkowski, local expert in growing native plants, who will highlight low-growing native species and share practical techniques for creating a stunning and eco-friendly yard.
Environmental Education Programs
Living Prairie Museum is pleased to offer in-person environmental education programs. Please review our program brochure and contact us by phone or email to discuss your booking.
Self-Guided Trails
Our self-guided trails are available from dawn until dusk. The trail system is an opportunity to see and learn about some of the most endangered habitat in the world. Please stay on the designated paths during your visit. A reminder that this is an on-leash park – please clean up after your pets.
Winter Self-Guided Trail booklet viewing format
Winter Self-Guided Trail booklet to print
Living Prairie Museum Medicine Garden
As part of our commitment to reconciliation, a medicine garden has been planted in collaboration with the Living Prairie Museum, Indigenous Relations Division, and a local Indigenous Elder. The garden features sage and sweetgrass, two of the four Sacred Medicines which naturally occur in the tall grass prairie.
The medicine garden is located in the nature park west of the preserve at the north end of Prairie View Road at Ness Avenue. It can be harvested by the public during the summer, but care and attention are needed to maintain the garden. Only harvest what is needed, taking only the leaves and leaving roots and seeds to allow the plants to regenerate between harvests.
It is good practice to consult with an Elder to learn more on the harvest and use of sacred medicines.
More information on the Directional Teachings and the Four Sacred Medicines, as shared by Elder Carolyn Moar.
More information
Hours
May and June – Sundays, 10:00 a.m. to 5:00 p.m.
July and August – Daily, 10:00 a.m. to 5:00 p.m.
September – Sundays, 10:00 a.m. to 5:00 p.m.
Outside of public hours, please call to make an appointment.
Location and contact information
The Interpretive Centre is located at:
2795 Ness Avenue Winnipeg, Manitoba R3J 3S4 Phone: 204-832-0167 Fax: 311
Last update: January 24, 2023