European Buckthorn Biological Control
A success story in process
European buckthorn (Rhamnus Cathartica) is an introduced, invasive shrub that is found throughout Canada and the US. Originally brought to North America for use as a hedgerow plant, it was also used in shelterbelts until it became known that it was an alternate host for oat rust. In natural areas in the City of Winnipeg, buckthorn has become a dominant plant in some of our forests and has suppressed the growth of native vegetation.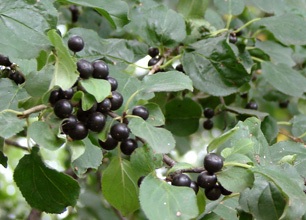 The trouble with buckthorn, like many weedy plants, is that control is not simple as cutting down the plant. When buckthorn is cut, sprouts form from the stump and continue to grow to form a multi-stemmed shrub. Over the years the City of Winnipeg Naturalist Services Branch and their project partner, Nature Manitoba (formerly the Manitoba Naturalists Society), have worked on European buckthorn control and management in Assiniboine Park as well as other natural areas in the City of Winnipeg. Control options include chemical control using herbicides and mechanical control using a tool called the Extractigator.
Work on controlling European buckthorn took a novel turn in 2010. The City of Winnipeg and Nature Manitoba were able to trial a new biological herbicide. A naturally-occuring fungus called Chondrostereum purpureum is used to essentially kill buckthorn from the inside out. Although the project is still in its trial stage, the results so far have shown promise. Chontrol Peat Paste may become another tool in controlling European buckthorn using an endemic fungus to control a non-endemic species. For more details about the study trial take a look at this link.
Interested in European buckthorn control? A Best Management Practices manual is available here.
Last update: March 5, 2020