Graffiti control by-law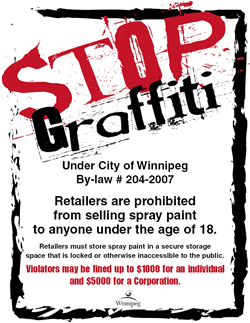 On November 21, 2007, City Council passed By-Law # 204/2007.
This By-Law:
Prohibits the sale of spray paint to persons under 18 years of age and requires retailers to post signs notifying the public of this restriction.
Requires retailers to store spray paint in a secure storage space that is locked or otherwise inaccessible to the public.
The City of Winnipeg is providing you with this information as part of an education campaign to better inform retailers, who may sell spray paint, and the general public of the requirements of the Graffiti Control By-Law. Active enforcement of the By-Law began on June 15, 2008.
View and print the required sign English | français as approved by the Director of Public Works. These signs must be conspicuously posted and visible to the public near where spray paint is sold.
As a reference, here is an example of secure / locked or otherwise inaccessible storage areas. Secure /locked or otherwise inaccessible storage areas may not be limited to examples shown and retailers may determine other secure storage configurations acceptable to the City of Winnipeg.
Section 178(1) of The City of Winnipeg Charter provides that, unless a By-Law provides otherwise, the maximum penalty for a violation of a By-Law is $1000 for an individual and $5000 for a corporation.
If you have any questions regarding the requirements of this By-Law please refer to the Frequently Asked Questions page or call 311.
Related Documents:
Last update: May 14, 2019