Roadside memorial band
To commemorate the passing of a loved one on a city street right-of-way as a result of a fatal collision involving a motor vehicle, pedestrian, and/or cyclist, the City of Winnipeg will, upon request, fabricate and install a Memorial Band to mark the location of the collision. If there is already a roadside memorial in place, it will have to be removed before a Memorial Band can be requested.
The cost of a Memorial Band is $125.00 + GST. The requester is responsible for this cost.
A band can be requested by a family member of the deceased by contacting 311.
The band will bear the name of the deceased and the year of passing (see the sample below).
The band is 4 inches high by 6 inches wide and is made of metal.
The band will be attached to an existing sign pole or other approved suitable location as near as possible to the location of the fatality.
Should the band be vandalized, damaged, or removed by others, it is the responsibility of the family to contact the City indicating they would like to have it replaced. The cost of a replacement band is the responsibility of the requester.
Bands can be requested for fatal collisions occurring after January 1, 2007.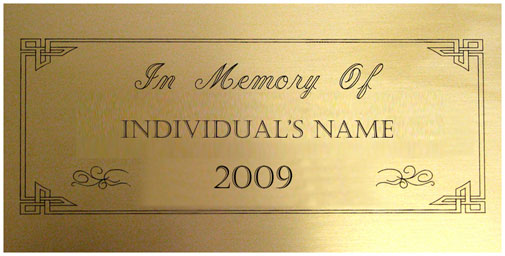 Last update: July 3, 2018