Street and sidewalk maintenance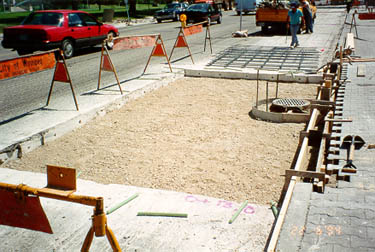 The Streets Program includes the maintenance of paved and unpaved surfaces, associated ditches and culverts, alley and railway crossings. This includes patching, restoration, pavement raising, crack filling and curb maintenance of paved roadways and alleys. Other services include grading, dust control, gravelling, and ditch and culvert maintenance of gravel roadways and alleys.
Primary sidewalk maintenance activities
Sidewalk maintenance includes:
Spot replacement of deteriorated sections.
Continuous replacement of full block sections.
Restoration of ornamental sidewalk which includes paving stones.
Primary street maintenance activities
Pavement maintenance and alley maintenance includes:
Pothole Patching: provides safety maintenance to paved roadways by applying asphalt products to potholes, depressions, bumps or pavement edge failures.
Concrete Restoration: repairs street pavements using concrete products.
Asphalt Repair: hot-mix asphalt is used on paved streets to repair surface defects or improve drainage in localized areas.
Curb Repair: concrete products are used to repair broken or deteriorated curb.
Joint and Crack sealing: sealants and asphalt are used to fill pavement joints and cracks to prevent water from penetrating the surface.
Asphalt Overlay / Resurfacing: the placement of an asphalt pavement surface to a repaired concrete pavement or the removal of an old asphalt surface and replacement with a new layer of asphalt pavement.
Pavement Raising: a stabilized fill is used to lift concrete panels to improve drainage.
Pothole Patching: provides safety maintenance to gravel roads by applying asphalt products to localized potholes, depressions, bumps or edge failures.
Dust Control: the preparation and application of dust control products to gravel or oiled roadways.
Grading: basic grading necessary to keep gravel roadways and alleys passable.
Two dust control treatments per year on all gravel roads used as bus routes by the City of Winnipeg Transit System.
Two dust control treatments per year on all gravel roads that serve residential and agricultural properties of a collector street type.
Ditch and culvert maintenance includes:
Inspection, cleaning and maintenance of ditches.
Inspection and routine maintenance of culverts.
Railway crossing maintenance includes:
Railway Crossing Maintenance: the repair, removal or replacement of railway crossings on City roadways.
Railway Billings: crossing signal maintenance, damage repairs from accidents and vandalism, and right-of-way payments.
Private Accesses:
The City of Winnipeg Private Access By-law 49-2008 states the following:
MAINTENANCE OF PRIVATE ACCESSES
On-going costs of private accesses
24(1) Subject to this section, the owner of a benefiting property must ensure that a private approach or private walk is maintained to a standard that is consistent with the safe and efficient movement of vehicular and pedestrian traffic using the private approach or private walk as well as vehicular and pedestrian traffic upon the adjacent roadway and sidewalk."
Last update: June 24, 2022