What is a Roundabout?
Select image for larger version
A roundabout is a type of circular intersection with yield control of entering traffic, islands on the approaches, and appropriate roadway curvature to reduce vehicle speeds.
Roundabout features:
One way traffic direction through the roundabout.
Yield at the entry giving the right of way to circulating traffic allowing for efficient flow through the intersection.
The splitter and centre islands slow vehicle speed for safe pedestrian crossings.
Signed and marked pedestrian crosswalks on all approaches.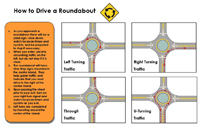 Select image for larger version
As you approach a roundabout there will be a YIELD sign. Slow down, watch for pedestrians and cyclists, and be prepared to stop if necessary.
When you enter, yield to circulating traffic on the left, but do not stop if it is clear.
The roundabout will have ONE WAY signs mounted in the centre island. They help guide traffic and indicate that you must drive to the right of the centre island.
Upon passing the street prior to your exit, turn on your right turn signal and watch for pedestrians and cyclists as you exit.
Left turns are completed by traveling around the centre of the island.
How to cross a Roundabout as a PEDESTRIAN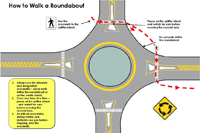 Select image for larger version
Pedestrian crossings at roundabouts are generally safer than for traditional intersections as pedestrians have only one direction of traffic to watch for when crossing and vehicle speeds are slower than at traditional intersections. Pedestrian crosswalks are set back from the circular roadway allowing motorists time to see and react to pedestrians before merging into or out of the roundabout. Pedestrians should look for approaching traffic before crossing to the triangular splitter island. Before crossing from the splitter island, they should again look for traffic entering or exiting the roundabout and cross when it is safe to do so. Pedestrians should never walk across the centre island or along the circular roadway.
Always use the sidewalk and designated crosswalks. Never walk within the roundabout or on the centre island.
Cross one lane at a time. Pause on the splitter island and watch for cars before crossing the second lane.
As with all crosswalks, always make sure that motorists see you before stepping onto the crosswalk.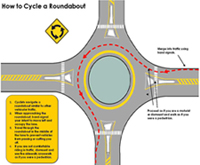 Select image for larger version
Cyclists may ride through the roundabout following the tips described in the How to drive a Roundabout section above. Alternatively, cyclists may choose to dismount and walk their bicycles through the pedestrian crosswalks as described above.
Cyclists navigate a roundabout similar to other vehicular traffic.
When approaching the roundabout, hand-signal your intent to move left and occupy the lane.
Travel through the roundabout in the middle of the lane to prevent vehicles from passing or cutting you off.
If you are not comfortable riding in traffic, dismount and use the sidewalk/crosswalk as if you were a pedestrian.
Last update: January 30, 2019