Waze Tips: Advertisements and Notifications
Waze has two main instances that could be considered pop-ups: Advertisements and notifications.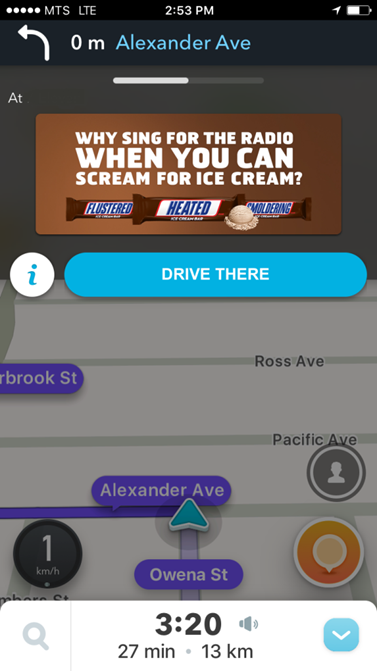 Advertisements
Waze ads occur while the app is open. For example: When you are driving to a destination and at some point come to a stop, an ad may drop down from the top portion of the screen. You don't have to click on or touch ads unless you want to. Simply start driving again and the ad will disappear.
The ads that show here are integrated into the app and cannot be toggled off. Just simply ignore them and they will disappear when your vehicle is in motion. Because Waze is free to download and free for Winnipeg to be a partner (Connected Citizens Program), this is how Waze gains revenue.
Notifications
Waze sends notifications which may pop up on your phone while the app is closed. The message would be an alert for abnormal traffic or some form of event happening nearby or on a route you may use.
These notifications are designed to help you get an understanding of what is happening on the roads so you can possibly adjust your departure time or make route changes.
These alerts can be toggled on /off and custom tailored to your preferred options. To access the area to update your options within the app, take the steps below.
Note: Please ensure you adjust settings while you are not driving.
| | |
| --- | --- |
| | 1. With the app open swipe right to get the Menu page. |
| 2. On the Menu page press the Settings icon (top left). | |
| | 3. On the Settings page select "Notifications." |
| | 4. The final step: Within the Notifications page select what you would like to be notified on and then click SAVE. |
Last update: August 30, 2019