Green Buildings
With buildings generating over one-third of all corporate and community-wide greenhouse gas (GHG) emissions in Winnipeg, green building practices have been identified as a key component to the success of the City's Climate Change Action Plan. Not only are City buildings a major source of GHG emissions, but they also account for the single largest segment of energy consumption in the city, as illustrated below.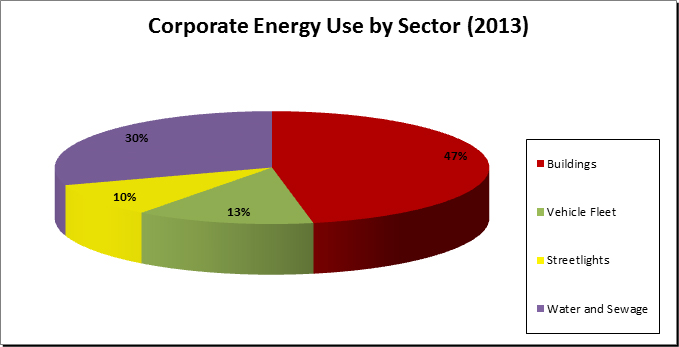 In response to the overwhelming role that buildings play in taking action on climate change and promoting healthy urban living, the City of Winnipeg is committed to seeking out and implementing opportunities for re-commissioning, improved energy efficiency, and renewable energy upgrades in civic-owned and operated facilities.
The notion of green buildings extends beyond strictly the environmental performance of the building itself like reducing GHG emissions. Rather, it encompasses the building property within the broader realm of the community, and includes principles of low-impact development coupled with community-based planning and socioeconomic considerations.
Supporting Policies and Initiatives
The City of Winnipeg is committed to leading by example in environmental, economic and social stewardship by implementing its Green Building Policy, mandating all new City-owned buildings, renovations and major additions that are over 500 square metres  (5,400 square feet) be designed and constructed to achieve improved energy performance, and to achieve certification in accordance with a credible, third-party verified, integrated design-based green building standard, such as the LEED (Leadership in Energy and Environmental Design). Since it took effect in 2011, several new City-owned buildings such as the Public Works East Yard Complex (LEED Gold), Sturgeon Heights Community Centre (LEED Gold), Sinclair Park Community Centre (LEED Silver) and the North Centennial Recreation & Leisure Facility (LEED Silver) have met or exceeded the Green Building Policy.
The achievement of City sustainability objectives, including the reduction of corporate energy use and GHG emissions, includes the enhanced performance of not only new property developments, but of existing buildings as well. As such, the municipality has also incorporated a Green Building Policy for Existing City-Owned Buildings which includes newly-adopted criteria for energy and GHG emission benchmarking of existing City-owned properties using the EnergySTAR Portfolio Manager tool.
What is Building Energy Benchmarking?
Recognized as a green building best practice, energy benchmarking is the ongoing review of an organization's energy consumption and GHG emissions to determine if the building's environmental and financial performance is getting better or worse. Energy benchmarking can be an internal process - measuring your building's performance against its own past performance and/or against other buildings in your portfolio - or it can be an external process, comparing your building to similar buildings outside your organization.
Regular benchmarking provides tangible data that gives building owners and operators the tools they need for continuous improvement. By mandating building energy benchmarking as an obligatory practice, the City can:
Identify poorly performing buildings; increases general awareness of energy efficiency among building occupants, which in turn can effect changes in behaviour (e.g., turning off unnecessary lights).
Establish a baseline for measuring improvement in energy consumption and emissions for all properties;
Identify and recommend changes to building operations or capital projects that will have the highest environmental and economic return on investment;
Enhance and create competition through comparison with similar buildings; and
Participate in green building certification programs and various other environmental initiatives.
By engaging in these activities, and more, the City is well-placed to lead by example through its Green Building Policies.
---
Additional Resources
If you would like more information about green buildings and to learn more, here are some helpful resources:
Last update: May 31, 2018