Sustainable Transportation
The provision of transportation systems has a large influence on the form of the built environment and people's quality of life. The City of Winnipeg aims to improve residents' quality of life by making our city a place where moving around either on foot, by bike or via transit is safe, convenient and accessible. Our goal is to ultimately make walking, cycling and public transit the preferred transportation options for Winnipeggers.
In 2011, the City of Winnipeg, together with local stakeholders, worked extensively to develop the Sustainable Transportation Direction Strategy and Transportation Master Plan. These policy documents provide long term strategic direction and formalization of how transportation will be provided in Winnipeg for the next 25 years. The plans emphasize moving people, goods and services in a way that is socially, environmentally and economically sustainable.  The Transportation Master Plan provides the following key strategic goals which are critical to achieving a balanced, sustainable transportation system for Winnipeg:
A transportation system that is dynamically integrated with land use;
A transportation system that supports active, accessible and healthy lifestyle options;
A transportation system that is safe, efficient and equitable for all;
A transportation system that is financially sustainable; and
Transportation infrastructure that is well-maintained and suitable for Winnipeg conditions.
A key underlying goal of the TMP is to expand the range of travel options that are available to residents, workers and visitors, and to ensure that people are not dependent on one single mode. Specifically, the TMP directly calls for the development of the Pedestrian and Cycling Strategies.
Pedestrian and Cycling Strategies
The Pedestrian and Cycling Strategies include a long-term vision for walking and cycling in Winnipeg, supported by seven overarching goals and a series of six strategic directions with supporting key directions and actions. In recognizing the significant environmental, economic, social and public health benefits of active transportation, the City of Winnipeg is following the lead of other major cities in improving facilities and programs for walking and cycling. For example, the City's capital budget for active transportation has risen ten-fold since 2006, from $300,000 to more than $4 million. Additionally, as part of the City's 2010 capital works program, an additional $20 million was allocated to implement several additions to the City of Winnipeg active transportation network. As of September 2017 several of these "walk-bike" projects have been initiated, providing ample opportunities for pedestrians and cyclists alike to help shape the design and operation of these exciting initiatives.
According to Statistics Canada, in 2011, the dominant mode of travel in Winnipeg was the car driver (69%), followed by commute trips using public transit (15%), as a car passenger (7%), walking (6%), bicycle (2%) and other modes (1%).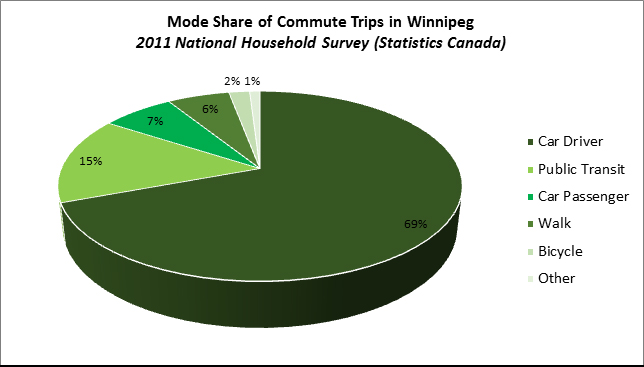 Active transportation also plays an important part in the success of Rapid Transit. 'Stage 1' of the Southwest Transitway Project saw a variety of cycling and walking paths built throughout the City, including:
A major upgrade of the South Winnipeg Parkway (along the west bank of the Red River);
Active transportation paths through Fort Rouge Yards between Osborne & Glasgow and Jubilee Avenue;
Active transportation path linking the Assiniboine Avenue Cycle Track, Queen Elizabeth Way, Harkness Station, and Osborne Station via Stradbrook Avenue and Donald Street;
Canopy-protected bike racks and bike lockers at Harkness, Osborne, Fort Rouge, and Jubilee Stations; and
Installation of bike racks on 30 Rapid Transit buses (seasonally from May 1 – October 31).
Construction continues on the Southwest Transitway project that will operate from Downtown to the new neighbourhoods of Southwest Winnipeg, including the University of Manitoba. The project will include new active transportation facilities along the total length of the Transitway, including connections to the existing active transportation network within the area.
Public Transportation System
Winnipeg Transit currently operates an extensive network of 89 bus routes throughout the city, with a fleet of approximately 585 buses. In 2006, consistent with the City's commitment to continued service improvements and sustainability, the City of Winnipeg began a multi-year comprehensive transit improvement program that involved:
An accelerated program of fleet replacements with low-floor accessible buses;
The implementation of upgrades to major stops and terminals;
On-street transit priority measures (i.e. diamond lanes, queue jump lanes, priority signals);
Implementation of leading-edge Intelligent Transportation System technologies on buses to facilitate real-time updates on route schedules;
Establishing a variety of new park-and-ride facilities; and
Outfitting Transit's entire fleet with a GPS-based Automatic Vehicle Location system.
Electric Bus Demonstration Program
Winnipeg Transit uses up to four New Flyer Xcelsior® battery-electric transit buses in daily service as part of an exciting electric bus demonstration initiative. The project is a collaboration involving the City of Winnipeg, the Province of Manitoba, Manitoba Hydro, New Flyer Industries, Mitsubishi Heavy Industries, Red River College, and Sustainable Development Technology Canada.
These state-of-the-art electric buses are in daily operation on the route 20 Academy-Watt; a 40-kilometre, two-hour route starting at Winnipeg Richardson International Airport, making its way through the city centre, to East Kildonan, and returning to the airport. The fully electric, zero-emission vehicles are powered by energy that's stored in rechargeable batteries rather than fossil fuels – so instead of an internal combustion engine, it's propelled by an electric motor (which also makes them very quiet). These zero-emission battery-electric propulsion transit buses are expected to significantly reduce greenhouse gas emissions and smog-causing air contaminants, particularly in Manitoba, where the electrical grid is highly renewable and fed almost entirely through hydroelectric power. The use of electric propulsion buses in Winnipeg, then, is expected to have a substantial impact on greenhouse gas emissions, with an estimated reduction of 160 tonnes of CO2e, per bus, per year.
To learn more about this demonstration project, you can watch this Red River College (one of the project partners) video on the new Zero Emissions Electric Transit Buses:
Zero Emissions Electric Transit Bus from Red River College on Vimeo.
Additional Resources
If you'd like more information about sustainable transportation, here are some helpful resources:
WFMA Green Fleet Plan
The City of Winnipeg approved the Green Fleet Plan in 2011 with the goal of reducing the environmental impact of the City's vehicle and equipment fleet by reducing associated fuel consumption and emissions while still maintaining (or increasing) the level of service offered to citizens of Winnipeg.
Green Action Centre – Transportation Demand Management
The Green Action Centre works with businesses and employers to make active and green types of commuting both appealing and accessible.
Peg-City Car Co-Op
The Winnipeg Car Co-op is a car-sharing service that is a practical alternative to help you meet your transportation needs while allowing you to commute by transit, cycling, and walking.
NaviGo Trip Planner
Navigo is Winnipeg Transit's online trip planner. It uses a simple step-by-step process to give you the information you need to make effective use of Winnipeg Transit.
Commuter Challenge
Every year in June, over 20,000 Canadians participate in greener commuting options during this week-long event. Friendly competitions encourage individuals and workplaces to explore green transportation options to and from work for personal, environmental, and community health.
GoManitoba
GoManitoba is a province-wide website developed for the purpose of helping to facilitate carpools, promote public transit use, and match bike and walk mentors.
Bike Week Winnipeg
Originally Bike to Work Day, the celebration has now turned into a weeklong event led by Bike Week Winnipeg that includes group rides, workshops and other culture events aimed at encouraging Winnipeggers to get on their bike and ride.
Last update: April 11, 2018