Water Conservation
Water conservation preserves and protects our water supply in the event of water shortage or drought, while decreasing greenhouse gas emissions, lowering utility bills, and benefiting waterways for future generations.
Winnipeg's billed water use is the average amount of water consumed in litres per person (per capita) per day (L/c/d). Since 1990, Winnipeg's residential, commercial and industrial customers have collectively reduced their water consumption by 44 percent per capita. In 2018, 223 L/c/d was consumed compared to 399 L/c/d in 1990. Declining per capita water use is not unique to Winnipeg as a similar trend has been noticed across Canada. Based on 2015 data from Environment Canada and Statistics Canada, Winnipeg's residential water consumption is 31 percent lower than the Canadian average per capita.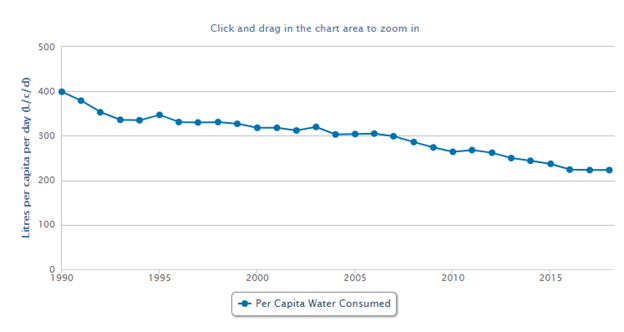 Winnipeg attributes the overall reduction in water consumption to a variety of factors including:
Water efficient technology (i.e. toilets and clothes washers)
Increased public awareness of water conservation
The adoption of new government regulations (Manitoba Plumbing Code)
Declining water use allows Winnipeg to maintain our adequate water supply and can eliminate or defer costly capital water infrastructure expansion projects.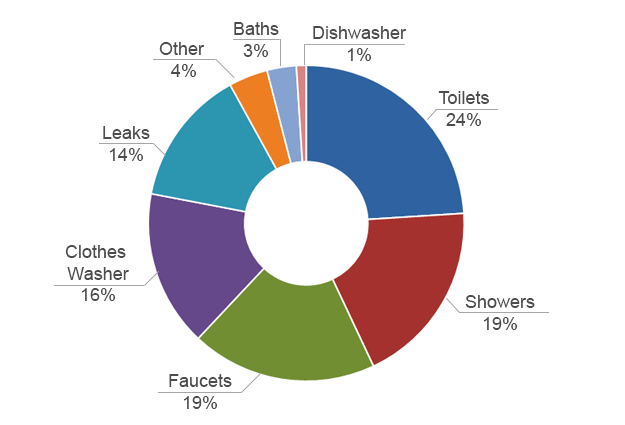 Residents can decrease their water use by following these water saving tips from the Water and Waste Department:
Additional Resources
If you would like more information about water conservation and what you can do, here are some helpful resources:
Check for water leaks:
Check for water leaks encourages residents to check for, and fix leaks, all year round. Every year in March, the 'Fix a Leak Week' campaign helps remind and encourage residents to get a handle on water leaks. In many cases, fixture replacement parts are inexpensive, pay for themselves quickly, and can be installed by do-it-yourselfers (DIY) or plumbing professionals. This campaign provides residents with easily-accessible information and DIY solutions.
MyUtility:
MyUtility is the City of Winnipeg's self-service website which allows customers to receive paperless bills and submit quarterly water meter readings online. Customers who have registered for MyUtility can track their water consumption in the 'My Consumption' section.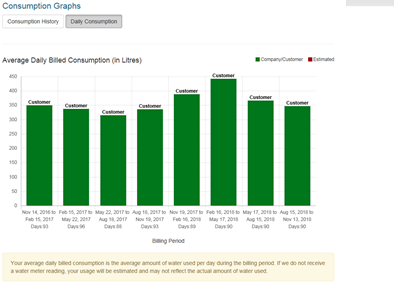 Water and sewer utility rates and service charges:
The City of Winnipeg provides a list of current and future billing rates, as well as a full explanation of the different charges that show up on your bills, including water rates, sewer rates, and other basic charges. It also includes information on any additional fees, such as meter replacements, meter testing, and water pipe thawing.
Peg Community Indicator System - tracking progress, inspiring action:
Peg is a community indicator system. It was built for Winnipeggers, by Winnipeggers. Community Indicator Systems are vital for understanding the health, well-being and sustainability of a community over time and across neighbourhoods. Peg is managed through a partnership between the United Way of Winnipeg and the International Institute for Sustainable Development (IISD).
Last update: July 15, 2020