Donate to help our furry friends!
There are 3 ways to support the work of the Animal Services Agency:
Financial donations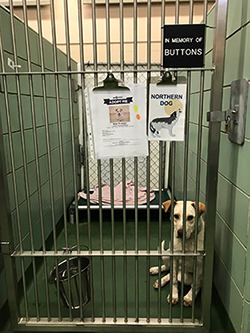 Financial donations support the adoption program, kennel improvement projects, and the care of sick and injured animals.
Donations of $10.00 or more are tax-deductible and you will receive a tax receipt.
Donations accepted online, in person at 1057 Logan Avenue (operating hours) or by mail.
Donate now
Support a dog kennel
For a $200 donation, we will place a plaque with your name, a business name, honouree, memorial, etc. on it.
These donations are tax-deductible and you will receive a tax receipt.
The plaque will stay on a kennel for a year.
Donate items from the animal wish list
For the animals/operations:
solid canned dog food
chewy dog treats
bully sticks
med-lrg martingale collars
double ended leashes
3 in 1 med-lrg harnesses
small dog collars
slow feeders
Kong wobblers
liquid or pods laundry detergent
bleach
For our Wellness Room:
Preventing "compassion fatigue" is important to us. We provide innovative supports including a wellness room for breaks:
ground regular coffee, flavoured creamer
hot chocolate
snacks
Please drop off your product donations at the Animal Services Agency at 1057 Logan Avenue during regular business hours.
View a printable version of the wishlist.
Last update: December 1, 2023