Flood of the Century
What does James mean?
Winnipeg references its primary water level to a gauge located on the Red River at James Avenue. The gauge is just downstream of the Forks, at the junction of the Assiniboine River. In a "normal" summer, water levels are maintained around James 6.5 ft. The zero point for this gauge is normal winter ice level and is established as 727.57' above mean sea level.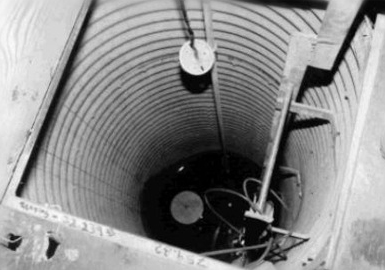 While James Avenue serves as a useful single reference to water levels in the city, technically its water level only applies to this location as rivers have a slope to them, as opposed to lakes which have constant a water level. North of the James Avenue gauge, which is downstream, water levels will be lower. In the south end of the city, which is upstream, water levels will be higher depending on the flow in both the Red and Assiniboine Rivers.
In the summer, St. Andrews Lock and Dam (SALD) regulates water levels and the structure is operated to try to maintain 6.5 ft at James Avenue. Under relatively low flow conditions, SALD maintains a relative constant level throughout the city as flows increase there is a noticeable gradient in the river. When flows exceed 13,000 cubic feet per second (cfs), the SALD structure is wide open and levels at James begin to rise above 6.5 ft.
During the spring flood with much higher flows, there is a steeper gradient in the river and the amount of flow coming from the Assiniboine River has a significant impact on the water levels in Winnipeg. During the 1997 flood, the Flood of the Century, the majority of the flow was on the Red River and very little on the Assiniboine River (~3,000 cfs). In the 2011 flood, there were very high flows on the Assiniboine River and levels in the south end of the city were considerably lower for a comparable James Avenue level. During floods, the flow on both our main rivers (Red and Assiniboine) are important factors. These flows are plugged into the City's Flood Manual to define a water level profile for the Red, Assiniboine and Seine rivers to base our flood fighting efforts on.
While James Avenue is the City's main gauge, water levels are monitored at a number of other locations on the Red and Assiniboine rivers. These levels are monitored ultrasonically, measuring the distance between the probe and the water level by bouncing a signal off the water. It works a lot like radar. The information recorded is then fed back to the McPhillips Control Centre. During a flood, the City monitors water levels at all these points as well as gauges operated by other agencies. When levels are monitored at other locations, the James Avenue datum is not used and the actual geodetic elevation (above sea level) is used.
How are James water levels recorded?
At the James Avenue gauge location, vital pieces of equipment (e.g., control box, electronic level transmitter) give the City a water level reading. An electronic level transmitter (a measuring tape) goes out to the Red River, measures water pressure as river levels change, and sends a signal to the control box, which transmits every 15 minutes via the wireless network to the McPhillips Control Centre. In earlier years, prior to electronic readings, the station was staffed 24 hours a day and was used to collect information for the operation of St. Andrews Lock & Dam.
Recent Flood History
Peak Red River Levels in Winnipeg at James Avenue (in feet)
Year
Spring Floods
Summer Floods
2018
15.7
April 30
2017
19.5
April 1
2016
18.1
March 18
2015
no spring flood
2014
19.1
April 22
17.6
July 2
2013
18.2
May 2
2012
no spring flood
2011
20.8
April 7
17.7
July 8
2010
18.5
April 2
2009
22.6
April 16
15.0
July 4
2008
no spring flood
2007
17.9
April 11
16.1
June 29
2006
20.4
April 7
2005
19.2
April 7
20.2
July 3 & 4
2004
19.0
April 4
15.3
June 9
2003
no spring flood
2002
no spring flood
17.3
June 15
2001
18.5
April 7
2000
no spring flood
15.6
July 8 & 9
1999
17.4
April 10
1998
17.2
March 31
1997
24.5
May 3
1996
19.4
April 28
Only peaks over 15 feet James are shown
As reference, the normal summer river level is 6.5 feet James while the River Walkway level is 8.5 feet James.
Historic Flood Levels
Peak Red River Levels in Winnipeg at James Avenue (in feet)
Year
Feet
1979
19.3
1966
26.3*
1950
30.3*
1861
33*
1852
35*
1826
37*
* Before construction of the Floodway. Historic 1800's flood highwater data comes from Sir Sanford Fleming Surveys (1879) and recorded in 1 foot intervals only.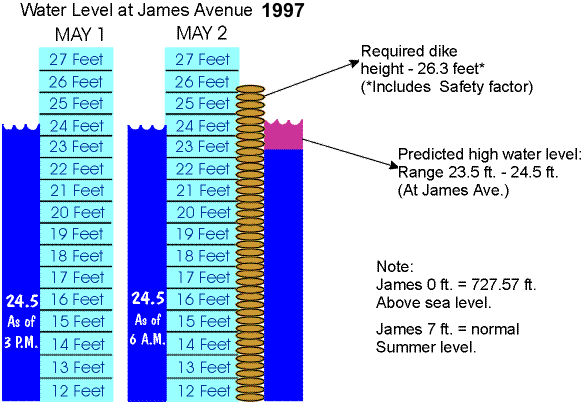 Last update: March 7, 2019->