Local Area Plans
The City of Winnipeg reminds all persons making use of this local area plan information, that it has been prepared for the convenience of the user. The City expressly disclaims any responsibility for errors or omissions.
---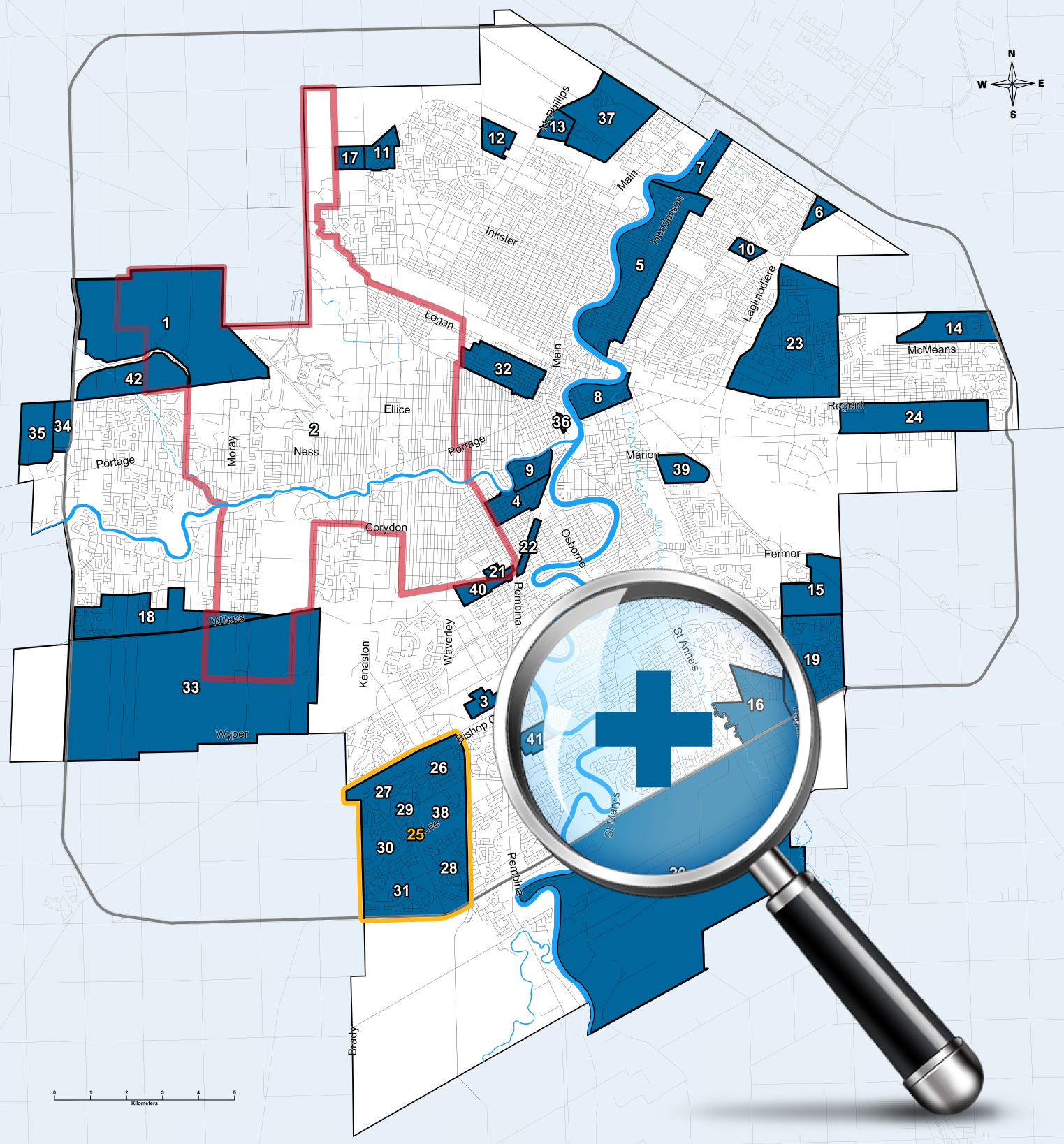 ---
Introduction
Local area plans (LAPs) direct how an area of land is to be developed and used. These plans contain a vision, land use concepts, policy statements and a strategy for realizing the vision of how an area shall be developed and used.
Local area plans manage change by directing how land in an area may be used, where buildings of various types, sizes and shapes may be located and how infrastructure can be extended into, and through, the local area. Local area plans vary by scale and level of detail.
A local area plan should be concise and provide clear direction to the public, the development industry and the City of Winnipeg with respect to land use planning and development, while promoting creativity and innovation.
Secondary Plan By-laws
A secondary plan is a local area plan that has been adopted by Council through a process specified in provincial law. When Council approves a secondary plan, the plan becomes a by-law. The process under which a secondary plan is approved includes a public hearing. All development proposals and other undertakings within a secondary plan area must be consistent with that secondary plan.
OurWinnipeg & Complete Communities
OurWinnipeg is the City of Winnipeg's municipal development plan, which sets a vision for the next 25 years. OurWinnipeg is supported by four direction strategy documents, each of which has a unique focus: Complete Communities, Sustainable Transportation, Sustainable Water and Waste, and A Sustainable Winnipeg.
Complete Communities is Winnipeg's guide to land use and development. It provides tools and approaches that complement OurWinnipeg in giving direction on how the city should be developed. Its primary focus is to describe Winnipeg's physical characteristics and lay out a framework of the city's future physical growth and development by introducing an urban structure, categorized into its various components, which include:
Downtown
Major Redevelopment Sites
New Communities (divided into precinct areas)
Mixed-Use Centres
Mixed-Use Corridors
Mature Communities
Recent Communities
Rural and Agricultural lands
Airport Area
Together, OurWinnipeg and Complete Communities provide direction that informs the creation of local area plans. Complete Communities identifies several areas in the City that need additional plans before they are developed. For example, New Communities are divided into precinct areas, each of which requires a planning process subject to requirements outlined in Complete Communities.
Approved Plans
Local area plans that are in effect are listed in the link below. To view the plan and related information, click on the name of the plan in the list.
Last update: February 1, 2022