Pedestrian connection requirements in private development
Pedestrian connections to building entrances must be built to ensure the destination is safely available to everyone. This applies to any commercial, institutional, multifamily, or industrial development, per the following information:
Districts
Commercial, institutional, multifamily uses
Industrial uses
PR1, PR2, PR3
RMF, RMU
C1, C2, C3, C4
CMU, EI, MMU
Standard A
Standard A
A, RR5, RR2
Standard B
Standard B
M1, M2, M3
Standard A
Standard B
Zoning requirements
The Zoning By-law requires that a universally accessible, direct pedestrian route be provided from the main entrance of at least one principal building to the adjacent public sidewalk, and transit stop. These routes are also required to connect the main entrances of all principal buildings and the main outdoor entrances of all units in these buildings to one another.
Detailed drawings of pedestrian connections must be provided to the Zoning & Permits Branch as part of the development application to confirm all requirements are addressed.
Construction requirements
Minimum clear width
Pedestrian routes must be a minimum of 1.5 m (4'-11") wide. To make sure the full width is always available for safe pedestrian movement, walkways must be free of any vertical objects such as signs, lamp posts, bike racks (and bikes locked to them) and protruding objects. This includes the door-swing area of outward-swinging doors. Where perpendicular parking stalls are located along a walkway, curb stops may be necessary to keep parked vehicles from encroaching into the path.
Pedestrian routes in parking lots must be designed to minimize the need for pedestrians to cross parking aisles or to walk behind parked cars.
If curb ramps are needed to provide access to the pedestrian route, the curb ramp should not encroach into the walkway.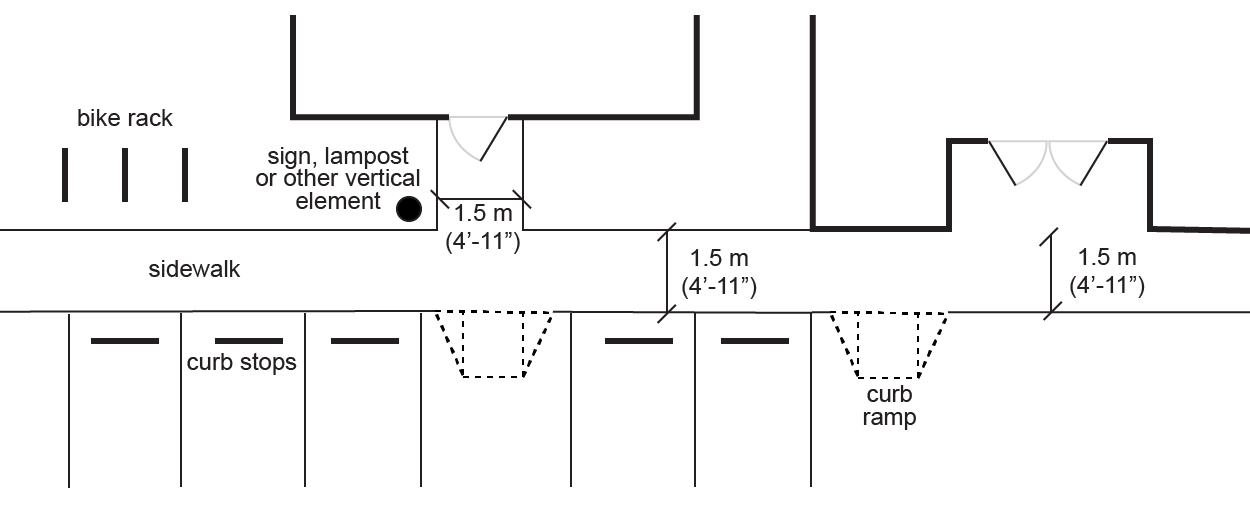 Figure 1: sample illustration of details to include in site plan submission
Materials
Routes must be built with a stable, firm, slip-resistant, and glare-free base. Acceptable materials include concrete, asphalt, and pavers. Concrete and asphalt are preferred, as they eliminate the rumble sensation that can be painful for users of wheeled mobility devices.
If pavers are used, they shall not be spaced more than 5 mm, or at their joint edge be beveled with a space greater than 10 mm.


Figure 2: joint spacing in pavers
If grates or catch basins are located within the path, any openings must be less than 13 mm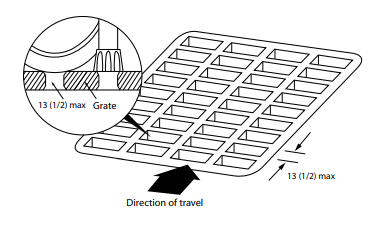 Figure 3: grills and gratings
Openings larger than 13 mm (1/2") so as not to catch wheelchair wheels or canes.
Types of edges:
Standard A
The edges of the route must be defined from the main path of travel by a significant difference in colour contrast and texture. Ways to do this include:
Adding a band of colour contrasting pavers
Incorporating a planting bed or grass
Methyl Methacrylate (MMA) traffic paint which includes grit to achieve texture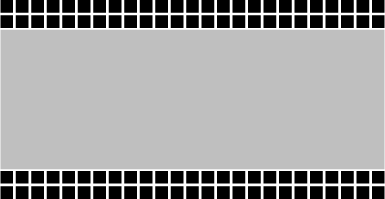 Figure 4: Example 70% colour contrast and texture


Figure 5: example planting bed edge
Standard B
This is the same as Standard A, except that the edges need to differ from the main path with a significant colour contrast only, not with a different texture. Ways to do this include:
Painted edge
Coloured concrete
Changes in elevation
Ground surfaces along routes shall be free of vertical rises that impose barriers for users of mobility aids and strollers, or that create tripping hazards.
Only a minor vertical rise is permitted within an accessible route, per the following information:
| Vertical rise | Edge treatment |
| --- | --- |
| 0-5 mm (0 – ¼") | May be vertical |
| 6mm (1/4") or more | Treat as sloped surface, ramp of curb ramp |
Where sloped surfaces are included, the slope along a walkway and in curb ramps should be 1:20 (5%) or less. Any slope greater than this is considered a "barrier-free ramp" and must be designed in accordance with the Manitoba Building Code.
The cross slope on walking surfaces shall not exceed 1:50 (2%)
Curb ramps
These may be required to provide access from the parking surface to an adjacent raised pedestrian area. Where two curb ramps are needed to provide a pedestrian crossing across a vehicle drive aisle, the curb ramps should include a detectable warning panel. For dimensional and layout guidance, see City construction specs SD-229.
Optional: If raised sidewalks are provided to cross vehicle drive aisles, they should be designed to include curb ramps with detectable panels, and to ensure that the slope of the ramps used by vehicles have a maximum slope of 5%.
Recommended design criteria
Provide directional signage where there is a change in direction along a pedestrian route and where the intended destination of the route it not clearly evident.
Provide a level of illumination of at least 50 lux along the entire route.
Where vertical objects are adjacent to a route, the surface surrounding the objects must differ in texture and colour from the routes.
Questions?
Please contact us.