Keewatin Street Pathway
Construction complete
The City of Winnipeg is committed to building pedestrian and cycling infrastructure for people of all ages and abilities. Keewatin Street is listed as a high priority bicycle spine in the Pedestrian and Cycling Strategies.
An off-street pathway was built along Keewatin Street from Burrows Avenue to Inkster Boulevard in 2017. This pathway connected with existing off-street pathways on:
Keewatin Street/Dr. Jose Rizal Way from Inkster Boulevard to Water Ridge Path, and
Inkster Boulevard between Inksbrook Drive and Keewatin Street.
Continuing connections along this thoroughfare is part of our 2019 Active Transportation planning. Stay tuned for details.
Project Updates
Documents
FAQs
Maps
Project Updates
December 2017
Pathway construction was completed in October 2017. In 2018, new traffic signals will be installed at the intersection of Keewatin Street and Church Avenue.
Work commenced on August 14, 2017 for the construction an off-street pathway on the west side of Keewatin Street, from Burrows Avenue to Inkster Boulevard.
For more information please see the following notices:
Construction notices related to work in the project area will be posted here prior to construction. If you have questions about road renewals or want to receive construction notices via email please contact Rebecca Hewett at Stantec Consulting Ltd. or phone 204-478-8954.
Frequently Asked Questions
Will I be able to access area businesses and residences during construction?
Access to area businesses and residences will be maintained as much as possible throughout the project. Short term private approach closures may be required to facilitate construction and will be reviewed with the business/resident prior to the construction taking place.
How much will this project cost?
The Keewatin Street pathway project is estimated to cost $1,000,000.
When will the next stretch of this path be built (Burrows Ave to Gallagher Ave West)?
The next step will be to develop a design for the continuation of the pathway and determine a cost estimate. The remaining sections of pathway will be completed around 2020 at the same time as the road renewal, subject to Council approval.
What are the City of Winnipeg's Pedestrian and Cycling Strategies?
On July 15, 2015, the City of Winnipeg Council adopted the Winnipeg Pedestrian and Cycling Strategies. This document stems from the 2011 Transportation Master Plan. The Strategies provide a long-range policy framework for active modes of transportation in Winnipeg for the next 20 years. Following public engagement in 2013 with more than 3,000 Winnipeggers, the Strategies will assist in the prioritization of walking and cycling infrastructure projects city-wide based on further in-depth engagement with neighbourhood and local stakeholders on a per project basis.
Maps
Current Project Map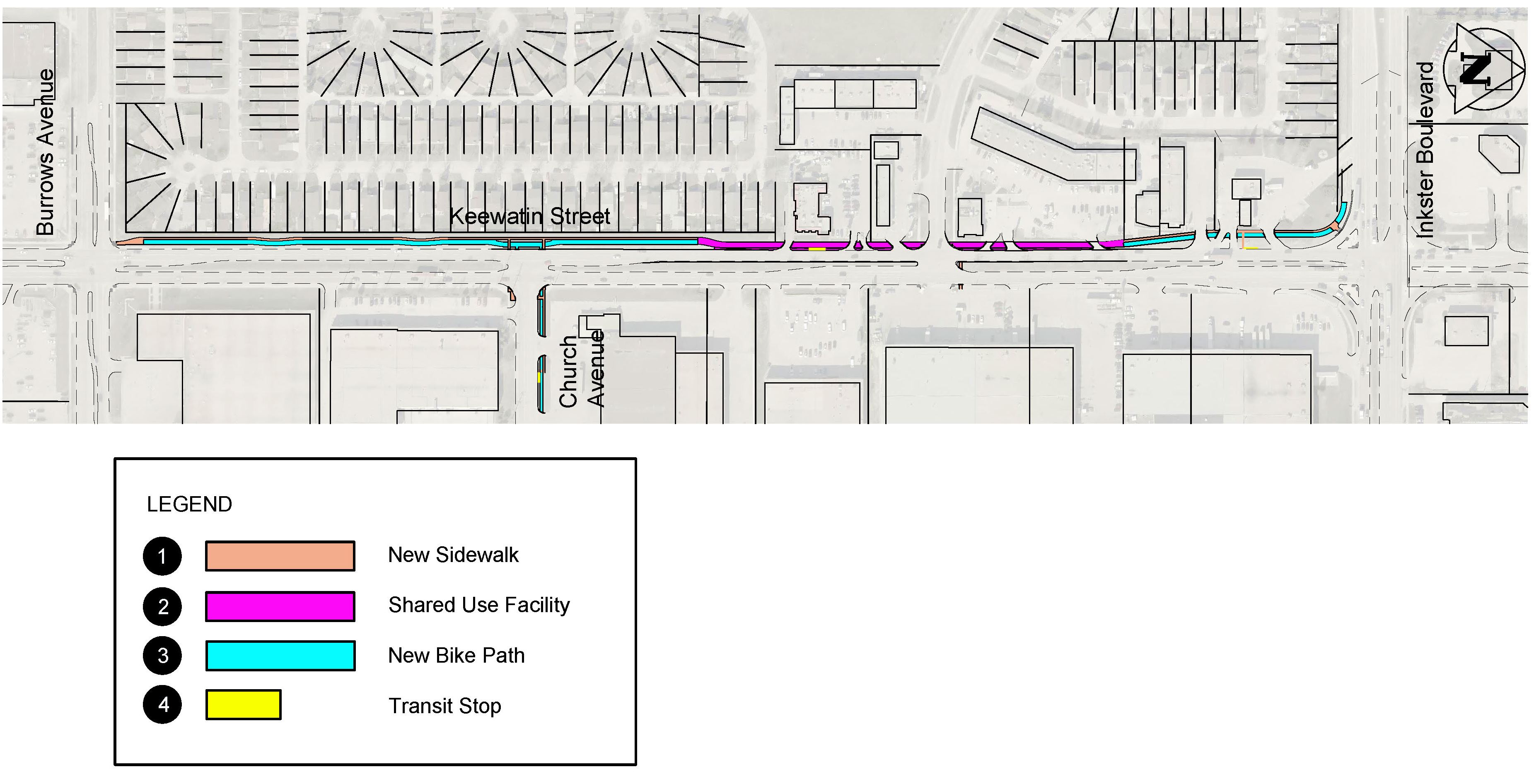 Keewatin Pathway Overview
Last update: April 5, 2019