Winnipeg WAV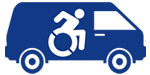 Winnipeg WAV's centralized dispatch system and call centre is the easiest way to secure a wheelchair accessible vehicle in Winnipeg.
We are committed to providing safe, efficient vehicle for hire services to customers requiring a wheelchair accessible vehicle on demand.
We can't always guarantee exact pick up times but will do our best to have a vehicle pick you up at the requested time.
Winnipeg WAV dispatchers
Winnipeg WAV has vehicles from:
All Access Taxi Ltd.
Blueline Taxi/Handi-Helper Transit Service/A E Crundwell
Duffy's Taxi
Greencity Taxi Ltd.
Spring Taxi/Star Taxi
Unicity Taxi
Yellow Taxi Ltd.
Download the app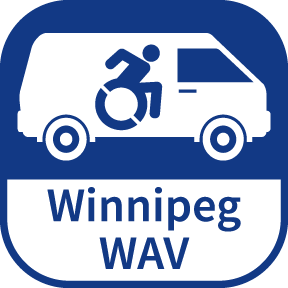 The
Winnipeg WAV
app is available for free download at the Apple App Store and Google Play App Store.

Contact us
If you need to book a WAV with your pet (non-service animal), please call our agents for assistance at:
Phone: 204-986-4WAV (204-986-4928)
For compliments or concerns, contact 311.