Identifying lead pipes and fixtures
Lead water pipes
If your home was built before the mid-1950's, you may have lead water pipes.
Below are photos showing the difference between a lead pipe and a copper pipe.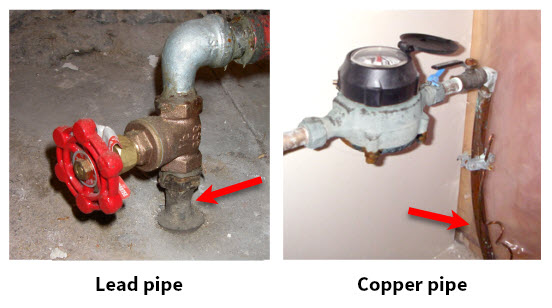 Lead water pipes are usually a dull gray colour. You can confirm it's a lead pipe by gently scratching the surface with a coin. If it's lead, scratching the pipe will leave a shiny silver metal mark.
Copper water pipes are usually a bronze, bright or dark orange colour and are made of a very hard material. Scratching a copper pipe with a coin will leave a faint bronze coloured mark.
If you can't tell what kind of water pipes you have in your home, contact 311 as we may have a record of the type of water pipe used for your water service.
Lead solder connections and brass water taps, valves and fixtures
It is difficult to identify whether there is lead in the solder used to connect your water pipes, or the brass water taps valves or fittings in your home, so it's important to reduce lead exposure by flushing your plumbing system.
Your home may have lead solder connecting water pipes if it was built prior to 1990. Since 1990, the Canadian National Plumbing Code has restricted the use of lead solder in new plumbing and in repairs to plumbing for drinking water supplies.
Your home may have brass water taps, valves and fitting that contain lead if it was built before 2014. Prior to January 2014, these brass components could contain up to eight percent lead. As of January 4, 2014, the Safe Drinking Water Act (SDWA) requires brass fixtures used in plumbing for drinking water to contain no more than 0.25 percent lead.
For information on the health effects of lead on your health, please: