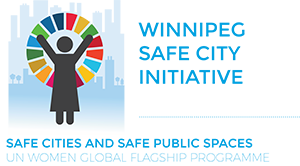 In 2013, Winnipeg was selected as the first city in Canada to join the UN Global Safe Cities Initiative to reduce sexual violence against women and girls.
The Safe Cities Initiative supports innovative approaches to preventing and reducing harassment and sexual violence against women and girls in public spaces.
Manitoba Status of Women and the City of Winnipeg are partnering with UN Women, representatives from the Winnipeg Police Service and community groups on this initiative. After signing onto the initiative, Manitoba Status of Women, the City of Winnipeg and community and government representatives established the Winnipeg Safe City Steering Committee. The Winnipeg Safe City steering committee identified a five neighbourhood site to target efforts to address this serious crime.
Trigger Warning: This webpage, and sources it links to, contains information about sexual violence that is for information purposes only and is not monitored 24/7. The information contained herein is not meant to supplement seeking professional assistance related to street harassment and/or sexual assault.
Last update: April 14, 2021