Volunteering with Animal Services
Next volunteer orientation
Date to be announced
Animal Services, 1057 Logan Ave.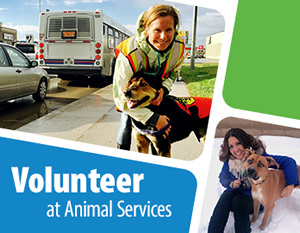 Thank you for your interest in volunteering at Animal Services!
Volunteers primarily work with dogs that are up for adoption. These dogs receive valuable socialization during their stay at Animal Services by generous volunteers.
If youth are under 16 years (14 or 15 year-olds) they must be accompanied by a parent or guardian who is also a volunteer.
Corporate volunteerism
Did you know we have corporate volunteer opportunities? Corporate volunteering is a great way to team build, while improving the health and wellness of your employees. Our doggies also love extra attention! Corporate volunteering is streamlined and easy. If interested in corporate volunteerism, simply contact us!
Available duties and responsibilities
Dog socialization
Helping get dogs familiar with walking on a leash.
Teaching dogs/puppies how to be handled.
Spending time with dogs so they are exposed to different people helping them get more comfortable around strangers.
Dog walking
Taking dogs out for walks.
Taking dogs into the outside enclosures for exercise.
Dog care
Assist Kennel staff with bathing dogs.
Brushing dogs.
Provide food and water to dogs.
Community outreach
Assist at events.
Digital photography of adoptable dogs and uploading to website
Basic cleaning
Washing dishes
Laundry
Sweeping and mopping
Skills and qualifications
Must be a minimum of 14 years of age to volunteer with an adult.
Volunteers aged 16 and over may volunteer alone.
Physically fit and be able to independently work with dogs of all sizes and energy levels.
How to apply for a volunteer position
1. Orientation session
Attend one of our orientation sessions where we will review our volunteer program, provide applications, and take a tour of our facility.
2. Criminal Record Check
A Criminal Record Check (with a Vulnerable Sector Screening request) satisfactory to the City of Winnipeg will be required at the cost of the applicant. View details on the Criminal Record Check process.
When completing an online application, please note the following question:
Which agency are you applying for?
Answer: City of Winnipeg
All applicants must provide the Animal Services Agency with a copy of their Criminal Record Check Certificate. Applicants must bring the original copy of the Criminal Record Check Certificate to the Animal Services Agency; a copy of the Criminal Record Check Certificate will be made and the original returned to the applicant. Criminal Record Checks cannot be more than three months old.
3. Volunteer placement
Email us at animalservicesagency@winnipeg.ca once you have:
attended an orientation session (dates posted on winnipeg.ca/animalservices and on Facebook)
completed your application forms
received your completed Criminal Record Check Certificate
An Animal Services' representative will then contact you to begin volunteer training.
For more information
Email us or call 311.
Last update: February 23, 2023