Trip & Fall Hazards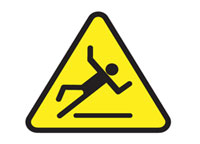 Falls are one of the most preventable causes of hospital admission. Winnipeg Fire Paramedic Service responds to approximately 9,000 fall incidents every year, this number continues to grow. Many of these are absolutely preventable. You will find some great tips listed below that will help prevent slip and fall incidents.
Remove clutter, small furniture, pet gear, electrical cords, throw rugs and anything else that might cause someone to trip


Arrange or remove furniture so there is plenty of room for walking


Secure carpets to the floor


Wipe up spills immediately


Make sure outdoor areas are well lit and walkways are smooth and free from ice and snow


Use non-slip adhesive strips on stairs


Use non-skid mats or appliques in the bath and shower


Install grab bars in the tub, shower and near the toilet


Install railings on both sides of stairs


Provide adequate lighting in every room and stairway


Place nightlights in kitchen, bath and hallways


If necessary, provide personal walking devices, such as a cane or walker, to aid in stability


If you have pre-existing medical conditions that increase your likelihood of falling, ensure you follow up with your family doctor to receive appropriate care.


WRHA-How to Prevent Falls
Last update: November 15, 2019