Creek Bend Road Bridge Replacement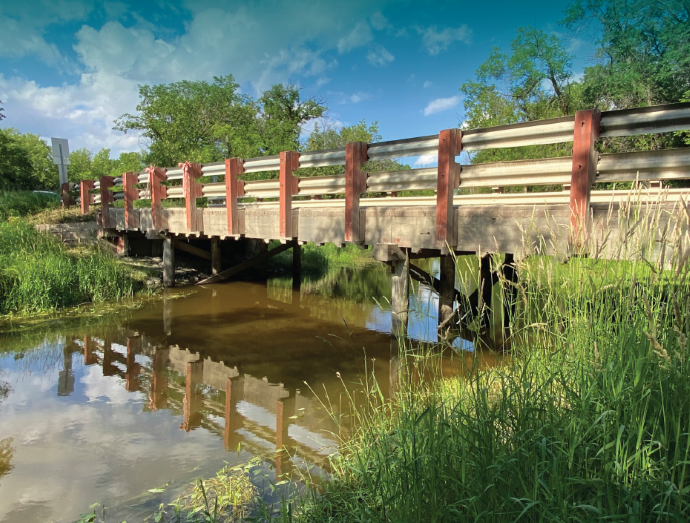 This project will replace the existing timber bridge on Creek Bend Road at the Seine River to meet the current and future needs of area residents and business.
Background
Timeline
Project Design
Contact
Background
The current Creek Bend Road Bridge over the Seine River is an approximately 70-year-old timber bridge nearing the end of its service life. It is load-restricted, width-restricted, and in poor condition.  Additionally, the Province of Manitoba is in the process of implementing safety improvements on PTH 100 (the South Perimeter Highway). These improvements will change the way the local street network provides access to the area.  The City and Province have partnered to replace the existing Creek Bend Road Bridge, which will ensure access is maintained for residents and businesses during and after the PTH 100 improvement project.
Project Timeline
Preliminary and detailed design will occur through 2022 and 2023.  Tendering for construction is expected in Fall 2023.  Construction is anticipated to occur partly in the winter of 2023/2024, with final bridge and roadwork being completed in Summer 2024.  The new bridge is expected to open to traffic by September 1, 2024.
The existing bridge will be closed to traffic during construction.  Staging of the work is anticipated to occur in the following order:
Phase 1 (Summer/Fall 2022)
MTI to complete construction of a new service road, extending Aimes Road west and up to Creek Bend Road (to connect with St. Anne's Road).
The existing connection from PTH 100 to Aimes Road will remain open until construction of the new service road is complete.
The existing bridge on Creek Bend Road will also remain in service during this time.
Phase 2 (2023/24)
City of Winnipeg will reconstruct the bridge on Creek Bend Road over the Seine River.
The connection from PTH 100 to Aimes Road is closed.
Traffic coming from or going to either Sioux Road West or Creek Bend Road (east of the Seine River) will use the newly constructed service road (Aimes Road) during this time.
It is anticipated the new Creek Bend Road Bridge will be open to traffic by September 1, 2024.
During or immediately following bridge construction, MTI will construct the rail crossing and connection of Aimes Road and Melnick Road.
Phase 3 (Beyond 2024)
With the bridge on Creek Bend Road now replaced and open to traffic, a portion of Sioux Road West can be permanently closed.
This will facilitate construction and subsequent opening of a new rail crossing of the CP Emerson Subdivision.
This rail crossing will connect Aimes Road with Melnick Road, allowing closure of the connection from PTH 100 directly to Melnick Road.
Project Design
Preliminary design of the replacement bridge is currently underway. The recommended bridge design will be shown here at the conclusion of the preliminary design work.
Contact
If you have questions about this project please contact:
Joelle Doubrough, Stakeholder Engagement Lead
Morrison Hershfield Ltd.
Last update September 28, 2022