Residential lot grading
Infill houses / properties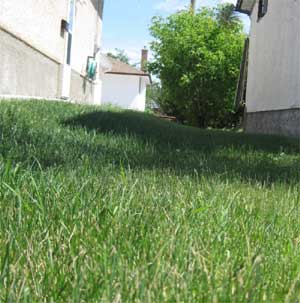 Infill housing is the construction of a new house in an existing neighbourhood, either:
to replace an existing house, or
on a new lot formed by subdivision of an existing property.
Under the Lot Grading By-Law, the developer of an infill house must submit a Lot Grade Plan. This must consider the elevation of the existing properties to ensure that the new construction does not affect neighbouring properties. Often a retaining wall must be constructed along the property line to contain the surface water.
Example of change in grade
Infill lot (below left) will drain towards property line as the by-law requires. The older home (below right) does not have proper slope away from the foundation to the property line and needs to re-establish the proper grading.
Last updated: February 24, 2014