Preventing backflow in your home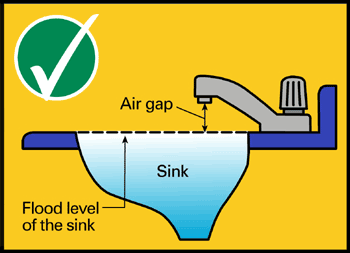 You can help prevent backflow in your home by following these tips:
Never submerge a hose in any container holding liquid, including a sink, swimming pool, or fish tank. Leave at least a one-inch gap between the end of your hose and the liquid.
Never attach a fertilizer or pesticide sprayer to your garden hose without a hose connection vacuum breaker.
Buy and install hose connection vacuum breakers on all threaded faucets around your home. These devices are inexpensive and are available at most home improvement stores.
Never put your garden hose down a floor drain to flush out debris when it's backed up.
If you have a pool or spa with a permanently installed fill line, make sure a backflow prevention device is properly installed in the line connected to your plumbing system.
Install a backflow prevention device on all in-ground lawn irrigation systems.
If your home has a heating boiler, install a backflow prevention device on the water supply to the boiler. The type of device will depend on whether chemicals (e.g., anti-freeze solutions, corrosion inhibitors) have been added to your home boiler.
For more information, contact 311.
Last updated: June 29, 2018