2012 Water Treatment Plant treated water quality test results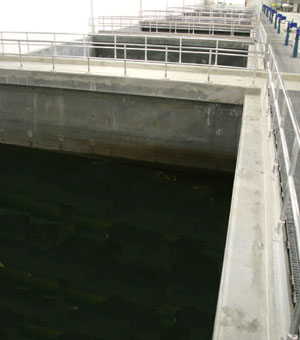 The new Water Treatment Plant is a state-of-the-art, modern facility designed for performance, safety, and environmental sustainability. In the plant, the water goes through several treatment processes, including dissolved air flotation, ozonation, filtration and ultraviolet light disinfection. Fluoride and orthophosphate are also added to the water. The Water Treatment Plant allows us to:
comply with the requirements of our Operating Licence
meet increasingly strict Canadian drinking water quality guidelines,
virtually eliminate the risk of waterborne disease,
reduce levels of disinfection by-products and
significantly improve the taste and odour of the drinking water.
Our Operating Licence requires that we maintain a minimum free chlorine residual of 0.5 milligrams per litre in water leaving the Water Treatment Plant.
Testing
We test our water at Shoal Lake, at the Water Treatment Plant raw water inlet and at the Water Treatment Plant treated water outlet once the water has passed through all of the treatment processes. The water then flows from the water treatment plant to the three regional reservoirs and pumping stations before being distributed to Winnipeg homes and businesses.
At the Water Treatment Plant treated water sampling point we test for:
routine water chemistry
taste and odour compounds
metals
disinfection by-products
bacteria
What is being measured
How it's measured
Guideline or regulation
Water Treatment Plant treated average
Water Treatment Plant treated range
Comments
Odour
 units
Inoffensive
20
12 to 25
Meets the guideline
Methylene Chloride
parts per billion
no guideline
<0.5
<0.5 to <0.5
-
Perchlorate
parts per billion
no guideline
<0.2
<0.2 to <0.2
-
Geosmin
parts per trillion
no guideline
<0.5
<0.5 to 2.3
Common taste and odour compound
IPMP - 2-isopropyl-3-methoxypyrazine
parts per trillion
no guideline
<0.5
<0.5 to <0.5
Common taste and odour compound
IBMP - 2-isobutyl-3-methoxypyrazine
parts per trillion
no guideline
<0.5
<0.5 to <0.5
Common taste and odour compound
MIB - 2-methylisoborneol
parts per trillion
no guideline
<0.6
<0.5 to 1.5
Common taste and odour compound
246 TCA - 2,4,6-trichloroanisole
parts per trillion
no guideline
<1.0
<0.5 to <2.0
Common taste and odour compound
236 TCA - 2,3,6-trichloroanisole
parts per trillion
no guideline
<1.0
<0.5 to <2.0
Common taste and odour compound
345 TCV - 3,4,5-trichloroveratrole
parts per trillion
no guideline
<0.5
<0.5 to <0.5
Common taste and odour compound
MTBE - methyl tertiary-butyl ether
parts per million
no more than 0.015
<0.0005
<0.0005 to <0.0005
Meets the guideline
NDMA -
N-nitrosodimethylamine
parts per billion
no more than 0.04
<0.0005
<0.0005 to <0.0010
Meets the guideline
Plankton (algae) count
 cells/mL
no guideline
<100
<100 to <100
Algae contribute to odours and may cause filter clogging
Chlorophyll-a
parts per billion
no guideline
<1
<1 to <1
 Chlorophyll is found in algae 
Microcystin LR
parts per billion
no more than 1.5
<0.2
<0.2 to <0.5
Meets the guideline
Turbidity (clearness)
NTU
no more than 1
0.16
0.06 to 0.32
Meets the guideline
Colour, True
TCU
no more than 15
1.3
0.5 to 2.5
Meets the guideline
Total Solids
parts per million
no guideline
189
174 to 222
-
Total Dissolved Solids
parts per million
no more than 500
176
156 to 204
Meets the guideline
Conductivity
microsiemens per centimetre
no guideline
322
300 to 364
Another measure of dissolved solids
pH
 units
between 6.5 and 8.5
7.67
7.23 to 8.05
Does not always meet the guideline
Temperature
degrees Celcius
no more than 15
10.4
1.2 to 24.6
Does not always meet the guideline
Total Alkalinity
parts per million as calcium carbonate
no guideline
71
61 to 84
-
Total Hardness
parts per million as calcium carbonate
between 80 and 100
80
74 to 92
Does not always meet the guideline
Total Organic Carbon
parts per million
no guideline
4
3 to 5
-
Dissolved Organic Carbon
parts per million
no guideline
4
3 to 5
-
Total Inorganic Carbon
parts per million
no guideline
17.8
16.5 to 19.1
-
Dissolved Oxygen
parts per million
no guideline
11.3
8.8 to 14.5
-
Total Phosphorus
parts per million
no guideline
<0.20
<0.10 to <0.20
Phosphorus can contribute to algae growth
Ammonia
parts per million
no guideline
<0.010
<0.010 to <0.010
-
Nitrate Nitrogen
parts per million
no more than 10
0.027
0.027 to 0.027
Meets the guideline
Chloride
parts per million
no more than 250
22
17 to 28
Meets the guideline
Sulphate
parts per million
no more than 500
44
34 to 53
Meets the guideline
UV Transmittance (Filtered)
percent transmissivity
no guideline
95.6
90.7 to 99.2
-
UV Transmittance (Unfiltered)
percent transmissivity
no guideline
94.4
90.0 to 97.3
-
Chlorine (free)
parts per million
no guideline
1.14
0.82 to 1.67
-
Chlorine (total)
parts per million
no guideline
1.34
1.04 to 1.92
-
Trihalomethanes
parts per billion
no more than 100
6.7
1.0 to 12.9
Meets the guideline
Bromodichloromethane
parts per billion
no more than 16
0.8
<0.5 to 1.8
Meets the guideline
Haloacetic acids
parts per billion
no more than 80
13
<5 to 23
Meets the guideline
Aldehydes
parts per billion
no guideline
17
7 to 27
-
Carbofuran
parts per billion
no more than 90
<0.20
<0.20 to <0.20
Meets the guideline
Propoxur
parts per billion
no more than 0.7
<0.20
<0.20 to <0.20
Meets the guideline
Aldrin
parts per billion
no more than 0.7
<0.010
<0.010 to <0.010
Meets the guideline
Lindane (gamma-BHC)
parts per billion
no guideline
<0.010
<0.010 to <0.010
-
alpha-Chlordane
parts per billion
no guideline
<0.010
<0.010 to <0.010
-
gamma-Chlordane
parts per billion
no guideline
<0.010
<0.010 to <0.010
-
p,p-DDT
parts per billion
no guideline
<0.010
<0.010 to <0.010
-
Dieldrin
parts per billion
no more than 0.7
<0.010
<0.010 to <0.010
Meets the guideline
Heptachlor
parts per billion
no guideline
<0.010
<0.010 to <0.010
-
Heptachlor Epoxide
parts per billion
no guideline
<0.010
<0.010 to <0.010
-
Methoxychlor
parts per billion
no more than 900
<0.010
<0.010 to <0.010
Meets the guideline
alpha-BHC
parts per billion
no guideline
<0.010
<0.010 to <0.010
-
beta-BHC
parts per billion
no guideline
<0.010
<0.010 to <0.010
-
delta-BHC
parts per billion
no guideline
<0.010
<0.010 to <0.010
-
p,p-DDD
parts per billion
no guideline
<0.010
<0.010 to <0.010
-
p,p-DDE
parts per billion
no guideline
<0.010
<0.010 to <0.010
-
o,p-DDD
parts per billion
no guideline
<0.010
<0.010 to <0.010
-
o,p-DDE
parts per billion
no guideline
<0.010
<0.010 to <0.010
-
o,p-DDT
parts per billion
no guideline
<0.010
<0.010 to <0.010
-
Alpha Endosulfan
parts per billion
no guideline
<0.010
<0.010 to <0.010
-
Beta Endosulfan
parts per billion
no guideline
<0.010
<0.010 to <0.010
-
Endrin
parts per billion
no guideline
<0.010
<0.010 to <0.010
-
Mirex
parts per billion
no guideline
<0.010
<0.010 to <0.010
-
Simazine
parts per billion
no more than 10
<0.10
<0.10 to <0.10
Meets the guideline
Alachlor
parts per billion
no guideline
<0.10
<0.10 to <0.10
-
Atrazine
parts per billion
no more than 5
<0.10
<0.10 to <0.10
Meets the guideline
Metribuzin
parts per billion
no more than 80
<0.20
<0.20 to <0.20
Meets the guideline
Azinphosmethyl
parts per billion
no more than 20
<0.10
<0.10 to <0.10
Meets the guideline
Chlorothalonil
parts per billion
no guideline
<0.060
<0.060 to <0.060
-
Chlorpyrifos
parts per billion
no more than 90
<0.10
<0.020 to <0.10
Meets the guideline
Diazinon
parts per billion
no more than 20
<0.10
<0.030 to <0.10
Meets the guideline
Dimethoate
parts per billion
no more than 20
<0.10
<0.10 to <0.10
Meets the guideline
Malathion
parts per billion
no more than 190
<0.10
<0.10 to <0.10
Meets the guideline
Parathion
parts per billion
no more than 50
<0.10
<0.10 to <0.10
Meets the guideline
Terbufos
parts per billion
no more than 1
<0.10
<0.10 to <0.10
Meets the guideline
Methyl Parathion
parts per billion
no guideline
<0.10
<0.10 to <0.10
-
2,4-D
parts per billion
no more than 100
<0.050
<0.050 to <0.050
Meets the guideline
2,4-DB
parts per billion
no guideline
<0.050
<0.050 to <0.050
-
2,4-DP
parts per billion
no guideline
<0.050
<0.050 to <0.050
-
2,4,5-T
parts per billion
no guideline
<0.050
<0.050 to <0.050
-
2,4,5-TP
parts per billion
no guideline
<0.050
<0.050 to <0.050
-
Bromoxynil
parts per billion
no more than 5
<0.020
<0.020 to <0.020
Meets the guideline
Dicamba
parts per billion
no more than 120
<0.0060
<0.0060 to <0.0060
Meets the guideline
Dinoseb
parts per billion
no more than 10
<0.050
<0.050 to <0.050
Meets the guideline
MCPA
parts per billion
no more than 100
<0.025
<0.025 to <0.025
Meets the guideline
MCPB
parts per billion
no guideline
<0.050
<0.050 to <0.050
-
Mecoprop
parts per billion
no guideline
<0.050
<0.050 to <0.050
-
Picloram
parts per billion
no more than 190
<0.20
<0.20 to <0.20
Meets the guideline
Trichlopyr
parts per billion
no guideline
<0.050
<0.050 to <0.050
-
Diclofop-methyl
parts per billion
no more than 9
<0.10
<0.10 to <0.10
Meets the guideline
Eptam
parts per billion
no more than 9
<0.20
<0.20 to <0.20
-
Propaclor
parts per billion
no guideline
<0.20
<0.20 to <0.20
-
Propanil
parts per billion
no guideline
<0.20
<0.20 to <0.20
-
Triallate
parts per billion
no guideline
<0.10
<0.10 to <0.10
-
Trifluralin
parts per billion
no more than 45
<0.030
<0.030 to <0.030
Meets the guideline
Arochlor 1016
parts per billion
no guideline
<0.020
<0.020 to <0.050
-
Arochlor 1221
parts per billion
no guideline
<0.020
<0.020 to <0.050
-
Arochlor 1232
parts per billion
no guideline
<0.020
<0.020 to <0.050
-
Arochlor 1242
parts per billion
no guideline
<0.020
<0.020 to <0.050
-
Arochlor 1248
parts per billion
no guideline
<0.020
<0.020 to <0.050
-
Arochlor 1254
parts per billion
no guideline
<0.020
<0.020 to <0.050
-
Arochlor 1260
parts per billion
no guideline
<0.020
<0.020 to <0.050
-
Calcium
parts per million
no guideline
22.5
20.7 to 25.7
Contributes to hardness
Magnesium
parts per million
no guideline
6.5
5.8 to 7.7
Contributes to hardness
Sodium
parts per million
no more than 200
33.0
23.9 to 44.4
Meets the guideline
Potassium
parts per million
no guideline
1.3
1.2 to 1.5
-
Iron
parts per million
no more than 0.3
0.03
<0.01 to 0.11
Meets the guideline
Copper
parts per million
no more than 1.0
0.003
0.002 to 0.004
Meets the guideline
Lead
parts per million
no more than 0.01
<0.001
<0.001 to <0.001
Meets the guideline
Aluminum
parts per million
no more than 0.1
0.002
<0.001 to 0.009
Meets the guideline
Arsenic
parts per million
no more than 0.01
<0.001
<0.001 to <0.001
Meets the guideline
Chromium
parts per million
no more than 0.05
<0.001
<0.001 to 0.001
Meets the guideline
Chromium IV
parts per million
no guideline
<0.01
<0.01 to <0.01
-
Nickel
parts per million
no guideline
0.003
0.003 to 0.004
-
Cadmium
parts per million
no more than 0.005
<0.001
<0.001 to <0.001
Meets the guideline
Manganese
parts per million
no more than 0.05
0.034
0.024 to 0.071
Does not always meet the guideline
Zinc
parts per million
no more than 5.0
<0.001
<0.001 to <0.001
Meets the guideline
Mercury
parts per million
no more than 0.001
<0.000001
<0.000001 to 0.000002
Meets the guideline
Antimony
parts per million
no more than 0.006
<0.001
<0.001 to <0.001
Meets the guideline
Barium
parts per million
no more than 1
0.0189
0.0188 to 0.0190
Meets the guideline
Beryllium
parts per million
no guideline
<0.00020
<0.00020 to <0.00020
-
Bismuth
parts per million
no guideline
<0.00020
<0.00020 to <0.00020
-
Boron
parts per million
no more than 5
0.011
0.009 to 0.014
Meets the guideline
Cesium
parts per million
no guideline
<0.00010
<0.00010 to <0.00010
-
Cobalt
parts per million
no guideline
0.00026
0.00024 to 0.00028
-
Lithium
parts per million
no guideline
0.0035
0.0023 to 0.0047
-
Molybdenum
parts per million
no guideline
<0.00020
<0.00020 to <0.00020
-
Rubidium
parts per million
no guideline
0.00183
0.00166 to 0.00200
-
Selenium
parts per million
no more than 0.01
<0.0010
<0.0010 to <0.0010
Meets the guideline
Silicon
parts per million
no guideline
0.632
0.361 to 0.903
-
Silver
parts per million
no guideline
<0.00010
<0.00010 to <0.00010
-
Strontium
parts per million
no guideline
0.0433
0.0410 to 0.0456
-
Tellurium
parts per million
no guideline
<0.00020
<0.00020 to <0.00020
-
Thallium
parts per million
no guideline
<0.00010
<0.00010 to <0.00010
-
Thorium
parts per million
no guideline
<0.00010
<0.00010 to <0.00010
-
Tin
parts per million
no guideline
<0.00020
<0.00020 to <0.00020
-
Titanium
parts per million
no guideline
0.00062
<0.00020 to 0.00113
-
Tungsten
parts per million
no guideline
<0.0010
<0.0010 to <0.0010
-
Uranium
parts per million
no more than 0.02
<0.001
<0.001 to <0.001
Meets the guideline
Vanadium
parts per million
no guideline
<0.00020
<0.00020 to <0.00020
-
Zirconium
parts per million
no more than 0.1
<0.001
<0.001 to <0.001
Meets the guideline
Guidelines from 'Summary of Guidelines for Canadian Drinking Water Quality' by Health Canada, revised February 15, 2013
Last updated: December 8, 2020