CPR Yards Crossing Study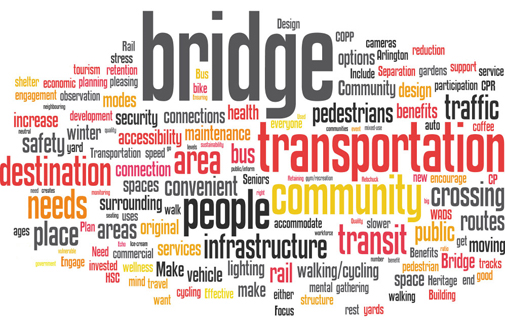 Arlington Bridge Solutions
Community Workshop #2 at King Edward School – Taking the Initiative for a New Crossing
The second community workshop was hosted by William Whyte Residents Association, Dufferin Residents Association of Winnipeg, and King Edward School on Saturday March 21, 2015. Over 70 enthused participants came to share their ideas for a new/improved CPR crossing(s).
First exercise: Community members marked on maps their current trips across the Yards by car, bus, cycle, walking, and scooter. Next, they looked at four main zones or areas across the Yards, from McPhillips to Isabel/Salter and they identified their preferred travel area option(s).
Second exercise: Participants chose "table topics" to discuss what each meant in relationship to the project's vision and goals, and how they could be achieved. These topics included: Safety/security; Walking/cycling accommodation; Walking/cycling accommodation; Transit; Universal accessibility; Community economic development; Aesthetics/culture/heritage; Healthy lives.
Of those who gave feedback, 88% of attendees were positive about the event and 87% noted that it was a good opportunity to learn about and engage in the project.
The workshop revealed that the Arlington Bridge is an important and valued crossing for people using all types of transportation. Participants provided great insight into the community's wants and needs for a new/improved crossing(s).
View a presentation about the workshop exercises and results.
Last update: January 8, 2020