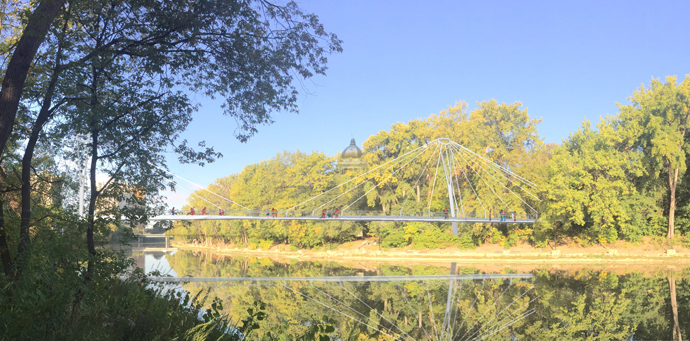 Osborne to Downtown Walk Bike Bridge and Connections
This study is now complete
Update December 2020 – The latest phase of design is now complete.
A public engagement summary and report are now available under the Engage tab.
The City of Winnipeg (the City) is committed to building pedestrian and cycling infrastructure for people of all ages and abilities. Through this study, a preliminary design for a new pedestrian and cycling bridge over the Assiniboine River will be developed to connect Osborne Village to Downtown via McFadyen Park on the north side of the river and Fort Rouge Park on the south side of the river. Considerations for this project include pedestrian and cycling connectivity throughout Osborne Village to Osborne Rapid Transit Station, Norwood Bridge, bike lanes on Nassau Street, and the riverwalk, upgrades to both McFadyen Park and Fort Rouge Park, crime prevention through environmental design (CPTED), and riverbank stabilization.
Go to Public Engagement Projects Listing
Updates
Recommended Option-Bridge
Recommended Option-Parks
Recommended Option-AT Connections
Engage
Background
Documents
FAQs
Maps
Related Links
Last update: December 4, 2020