Library podcast growing in popularity with Winnipeggers
Time to Read a digital take on book clubs
December 7, 2018
Erica Ball knew she had helped start something special when Margaret Atwood retweeted a post about a new podcast the Winnipeg Public Library was launching.
"That was an amazing way to start off, I mean terrifying way to start off," said Ball, the Fort Garry Library Branch Manager.
Ball is a part of the Time To Read podcast, which is essentially like a book club. When it launched in February 2018, Atwood's Oryx and Crake was the first book the podcast featured.
"It's something we hope all Winnipeggers can enjoy," said Alan Chorney, the Transcona Library Branch Manager. "We want to talk about what you want to talk about so we try to base our conversation on the responses we get from the public."
The podcast had been in the works for some time before the first episode was recorded.
"It was a year of mulling it over, what it would look like, how it would be put together and what the logistics would be," said Ball.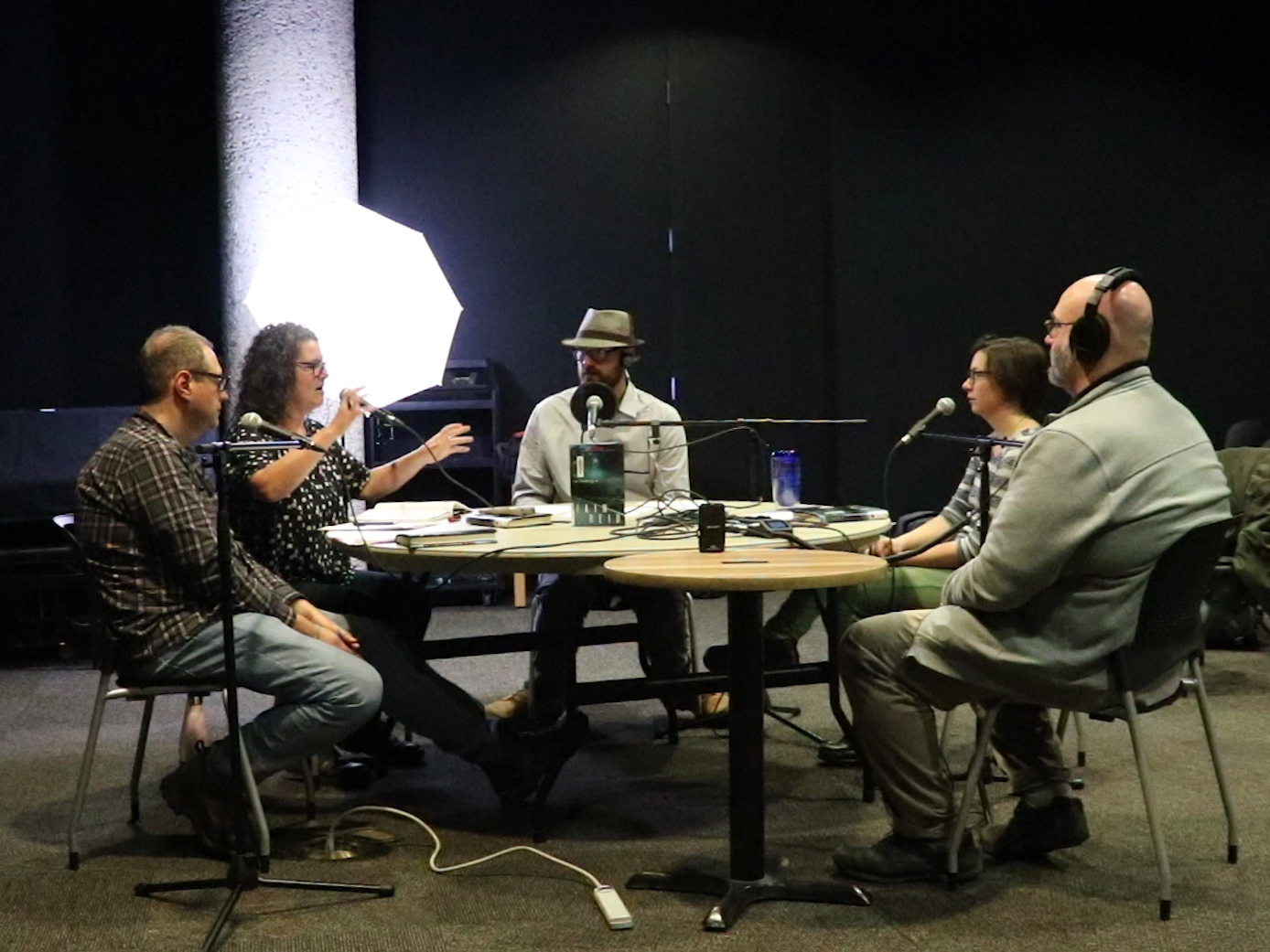 Time To Read is recorded in the Carol Shields Auditorium at the Millennium Library
Each podcast is recorded in the Carol Shields Auditorium at the Millennium Library and behind the mics are four library branch managers. The podcasts are then edited by Dennis Penner at the ideaMILL. Even though they all work at different branches, the chemistry the group shares makes for an engaging podcast.
Every month the group picks a book to read then starts the conversation with Winnipeggers on Facebook, Twitter and the podcast's website.
"You might be interested in reading the book, might have read the book years and years ago but I think what makes this podcast really unique is you can tune in not even having read the book beforehand and it might inspire you to read the book later," said Kirsten Wurmann, the Harvey Smith Library Branch Manager.
Our latest Time to Read podcast is available at https://t.co/t69jUjBXCA or wherever you find your podcasts! This month it's The Devil in the White City by @exlarson Enjoy! pic.twitter.com/LH00qTJo2l

— Wpg Public Library (@wpglibrary) November 2, 2018
The podcast already averages 300 to 400 downloads per episode and the group hope to grow the podcast through engaging with readers more on social media.
"We have been really pleased with how Winnipeggers have responded," said Wurmann. "We have some regulars already who have been chiming in with their comments, questions and opinions."
How to Listen
All episodes of Time To Read can either be listened to on the podcast's website or downloaded. New episodes are released on the first Friday of every month.