Bigger and brighter Christmas tree going up at City Hall
The expanded Christmas tree nearly doubles in size and now features decorations
November 3, 2021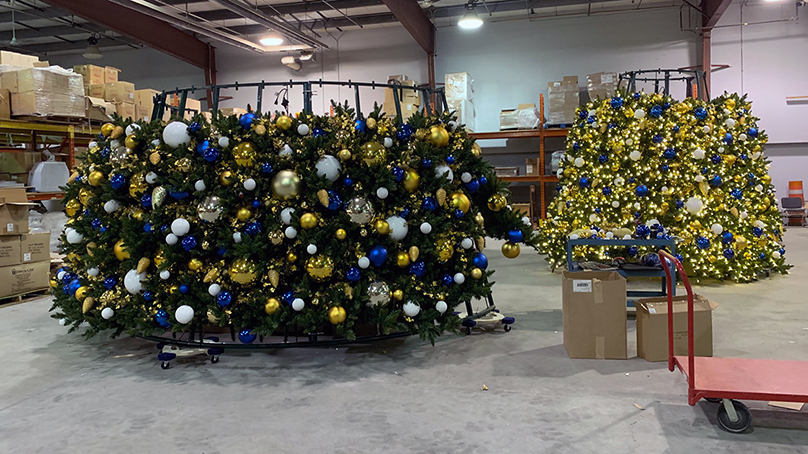 Just because the City Hall Christmas tree is artificial, it doesn't mean it can't grow. This year, it has nearly doubled in height to 50 feet tall, up from the previous 28 feet, and is being installed at City Hall through the beginning of November.
The tree has some extra flair too with more than 8,000 decorations. A mix of blue, white, and gold ornaments, pine cones, and leaf garland are trimming the 640 branches. All were carefully hung by our crews in a warehouse before being hauled to City Hall.
While the custom tree topper is the same, nearly 50,000 more mini-lights are being added to help light up the larger tree.
"Even though we now have a total of 64,400 lights on the tree, power consumption will continue to be low because they are all LED," said Derek Resch, the Public Service Operations Supervisor.
The tree now weighs 9,965lbs and to help support the size, a new stand has been installed on the Main Street side of City Hall.
"We started the tradition of installing the artificial tree in 2019 because crews were still cleaning up after the unprecedented October storm that year," said Resch. "The tree has provided an environmentally friendly alternative to a live Christmas tree and it is still able to be enjoyed through the holiday season."
After being lit later in November, the tree will stay up into the early New Year.