Developing new skills with open data
Students from Pembina Trails Early College build an app for finding the nearest parking paystation
April 8, 2021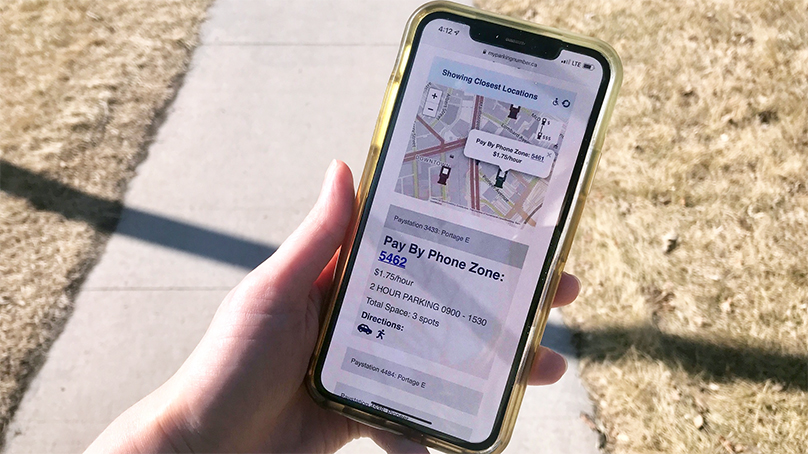 The City of Winnipeg's open data has made its way to the classroom.
We recently partnered with Pembina Trails School Division's Pembina Trails Early College (PTEC), a four-year program that prepares high schoolers with skills in software development, web development, and cyber security, which supported the community project set forward on open data.
During two virtual sessions this past winter, students were provided the dataset of parking paystation locations, and tasked with developing an application that can help drivers find the nearest one.
"It was eye-opening to see how advanced the students were," said Andrew Burton, the City's Coordinator of Data Services. 
One student, Nazar Viznytsya — who happens to be a former Kid Mayor — has since made his application available online.
"I really enjoyed being able to apply my programming skills on a practical real life problem that I am able to experience first-hand," he said. "I also enjoyed interacting with industry leads, being able to make my own schedule, and learn how to manage a project from brainstorming to deployment"
His application also stood out to his principal.
"We are extremely proud of the work that Nazar has done and hope that Winnipeggers use this tool, shared Jane Bachart, PTEC's principal. "When we take on community projects, we aim to support students in learning new, highly technical skills. Our students are driven by exploring how these new skills can be used in the world we live in. Working with the City of Winnipeg has provided our class with a rare opportunity to better the way Winnipeg residents use technology in their everyday lives."
Open data is information that is widely available in a format that can be read by a computer and is made available for anyone to use, transform, or republish without restriction.  Open data operates under the principle that the data gathered on behalf of the people belongs to the people.
We have released 23 new datasets throughout 2020, and were recently named the third most open city in North America.