Public Safety Building time capsule opened more than 50 years later
Audio recording of ceremony discovered in capsule restored
May 21, 2019
More than 50 years after it was sealed into the Public Safety Building (PSB), a time capsule marking the building's completion has been opened.
The capsule was placed in the PSB cornerstone on November 30, 1965. The building officially opened on May 18, 1966.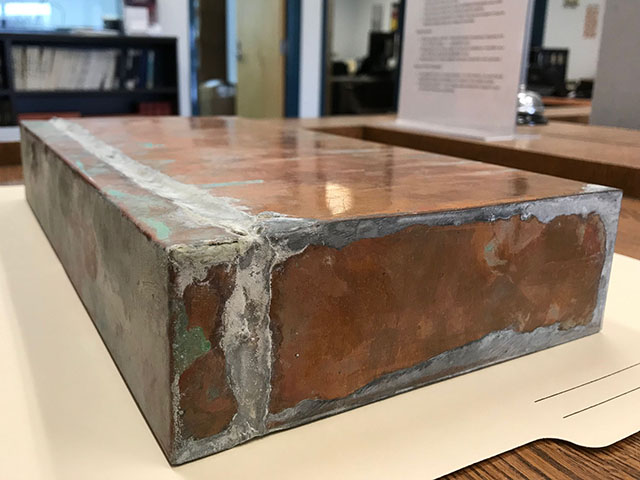 The capsule was placed in the PSB cornerstone on November 30, 1965.
The PSB initially housed the police, fire, and signals departments, as well as the Magistrate's Court. The Signals Department was formerly responsible for emergency telecommunications, two-way radio, telegraph communications, traffic signals, alarm systems, and automatic controls.
Each of the departments that moved into the PSB offered an envelope to be placed in the capsule before it was sealed.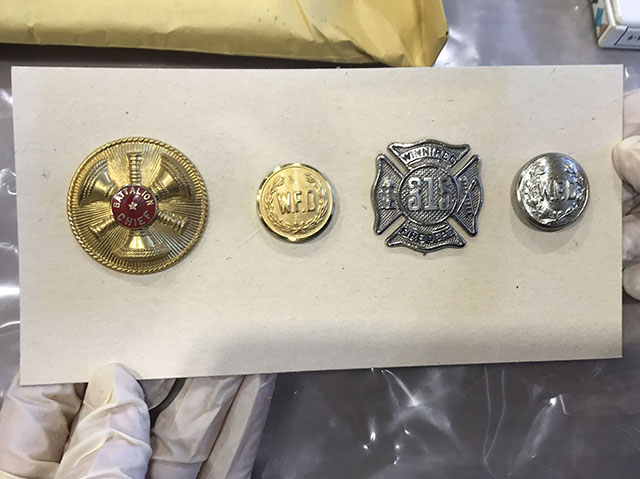 Firefighter buttons were placed in the capsule.
"They included items like statistics, photographs, badges, and buttons," said Ramsden. "All of the departments also documented the employees and operations in their respective areas."
The capsule also included an audio recording from the ceremony on November 30, 1965. City of Winnipeg Archives has had the recording digitized.
The recording also features the voices of Chief Police Constable George Blow, Fire Chief Cecil Leckie, and City Signals Engineer Jack Clarke.
He goes on to invite four aldermen to place the envelopes in capsule.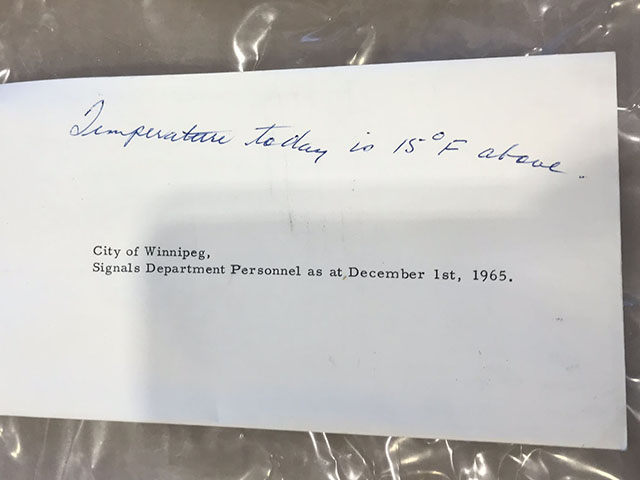 The temperature at the time of the ceremony was written on one of the envelopes.
Alderman Leonard Claydon also took the opportunity to document the temperature at the time of the ceremony. An envelope found in the capsule shows the temperature was 15F (-9C).
Ramsden would like to acknowledge the Winnipeg Police Service for recovering the time capsule, the welders at Winnipeg Fleet Management who opened it, and support from City of Winnipeg Health and Safety.