5 things you need to know about advance voting
October 3, 2022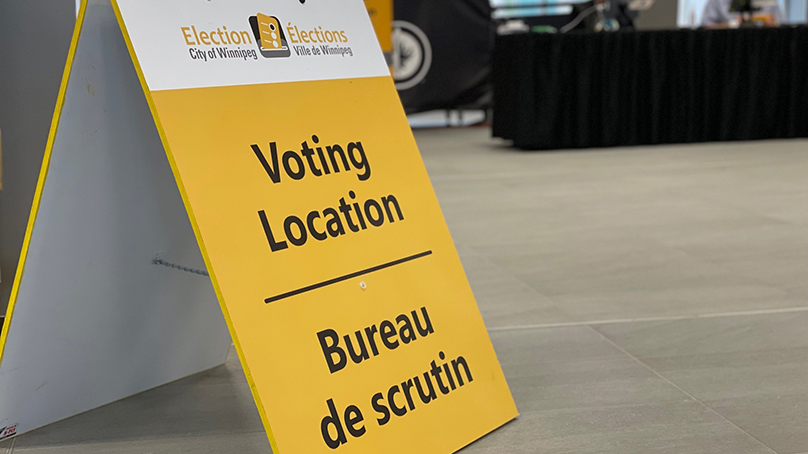 While Election Day for the 2022 Municipal Council and School Boards Election is on October 26, you don't have to wait until then to cast your ballot. Advance voting is on now.
Of the 216,003 people who voted in 2018, a record setting 39,840 ballots were cast in advance polls. Advance voting offers you the flexibility of voting at a time and place that is convenient for you.
We want to make sure the voting process is as smooth as possible for you. Here are a few things you should know before heading out to vote:
Am I eligible to vote?
To be eligible to vote for Mayor and Councillor in this election, you must a Canadian citizen, at least 18 years old on October 26, and an actual resident or property owner in the City of Winnipeg since April 26, 2022.
The same eligibility applies for voting for School Trustee, with the added requirement of being an actual resident in the school division ward on October 26.
Our election website has detailed information on eligibility requirements.
When can I vote?
You can vote in advance until October 21 at 4:30 p.m. Each advance voting location has its dates and times, so make sure to check when the polling station will be open and plan your schedule accordingly.
If you'd like to vote by mail, you have until October 23 at 4:30 p.m. to submit an application for a  sealed envelope ballot. Completed ballots must be returned to the Susan A. Thompson Building at 510 Main Street by October 26 at 8 p.m. and will not be accepted at any voting location.
Where do I vote?
There are 27 general advance voting locations open to the public, including at City Hall, inside select shopping malls, and at community centres in each of the 15 Council wards. Eligible voters can vote at any of the advance voting locations that works best for them, it does not have to be located in their ward.
You can search your address to find the location closest to you, or check out the complete list of advance voting locations on the election website.
What should I bring?
Voters must show proof of their name and current address. There are two options for what you can show.
You can either show one piece of government-issued identification that has your photo, name, and address or two pieces of authorized identification that together provide evidence of your name and current address. Both must have your name and at least one must have your current address. We have compiled some examples of types of ID that will be accepted.
If you received a voter's notice, make sure to bring it with you to ensure a smooth voting experience.
Who is on the ballot?
There are 11 candidates running for Mayor, 44 total candidates for Councillor, and more than 100 total candidates for School Trustee. The list of nominated candidates for Mayor, Councillor, and School Trustee is shown in the order the names will appear on the ballot.
If you are not able to vote in advance, your next opportunity will be on election day, October 26. Polls will be open from 8 a.m. to 8 p.m. Don't forget to bring your voter's notice and ID!