How Winnipeg Transit is working to keep passengers safe
Enhanced cleaning, mask recommendations among changes
July 28, 2020
As Winnipeg Transit resumes regular summer service on Tuesday, Aug. 4, 2020, behind the scenes, we are working to ensure the safety of all passengers.
"We know Transit is essential to the health of our city, and it needs to be safe," said Elizabeth Martin, Winnipeg Transit's Superintendent of Vehicle Servicing.
Enhanced cleaning
"When the pandemic started, we had to act fast and immediately began sanitizing buses by wiping down high-touch points with a hospital grade sanitizer," she said.
To further enhance cleaning, electrostatic sprayers were also brought in.  The technology uses positive and negative charges to clean. Martin said every surface you want to sanitize on a bus – call buttons, bars, doors, and the passenger chime cord – all have a negative charge. 
"As the liquid passes through the equipment, the electrostatic sprayer gives it a positive charge," said Martin. "So when we spray these tiny droplets of sanitizer with a positive charge, they are actually attracted to the surfaces, like positive and negative charged magnets."
In addition to reaching the negative charged surfaces, droplets are spreading and falling all around those areas, meaning much more of the bus is reached during the process. 
Each day, crews use the sprayers to sanitize approximately 300 buses. This works out to each bus going through the process at least every 48 hours.
We are also piloting a new program that focuses on floor washing and sanitizing the operator's compartment. This takes roughly an hour.
"We don't know how long COVID-19 will be a threat but we do know our commitment to keeping our passengers and staff safe is here to stay," said Martin.
Mask recommendation
We are recommending passengers wear face masks while riding Transit or using Transit Plus, as recommended by Manitoba Health. Public health officials have advised that masks or face coverings can help limit the spread of respiratory droplets during the pandemic, particularly in settings like public transportation where distancing may be a challenge.
"It is important to remember that Transit Operators and Transit Inspectors will not be enforcing the use of non-medical face masks," said Greg Ewankiw, Winnipeg Transit Director.
Bus operators have all been provided with reusable cloth masks and all buses are equipped with operator shields as an added barrier. Operators have been mandated to drive with the shields fully deployed.
Your role
We are asking all passengers to do their part to reduce the spread of COVID-19. This includes washing their hands frequently and maintaining a reasonable separation from others waiting for the bus and on board.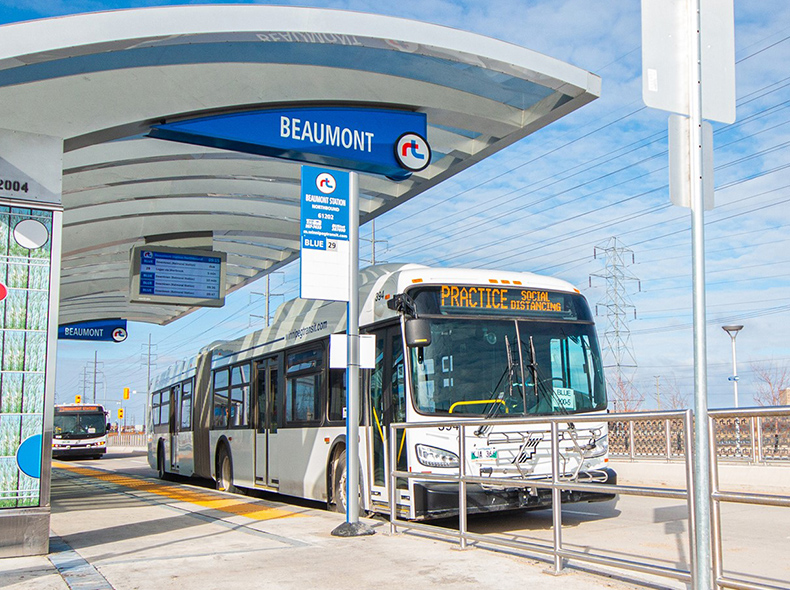 You can expect to see interior ads on the buses reminding passengers of this. The exterior display on buses also includes social distancing messaging.
When exiting the bus, passengers are also encouraged to use the rear door if they are able.
Avoid using if sick
While we are encouraging using Winnipeg Transit, we are asking passengers to avoid using the bus if they are experiencing flu-like symptoms.