Community Service Ambassadors helping to prevent the spread of COVID‑19
Ambassadors are in City-owned parks and open spaces to ensure social distancing
April 21, 2020
While the best thing someone can do to break the chain of COVID-19 is to stay home, the City of Winnipeg recognizes the importance of physical activity for physical and mental well-being.
This is why our parks and open spaces are still open. However, several civic amenities within the parks are closed. This includes skateboard parks, play structures, picnic shelters, outdoor barbecues, and athletic fields.
"We need everyone to follow the rules so we can stop the chain of transmission of COVID-19." said Jason Shaw, the Assistant Chief of Emergency Management with the Winnipeg Fire Paramedic Service.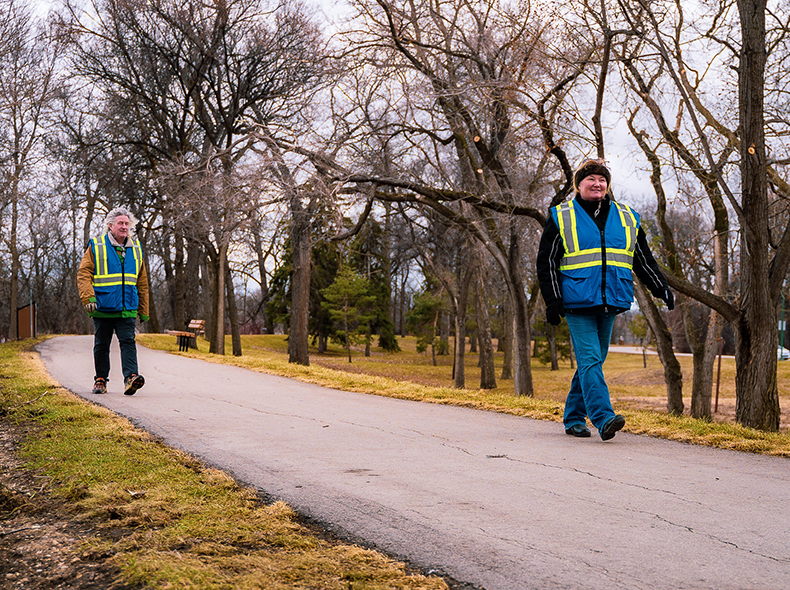 To help ensure people follow the City order to have people stay two metres, or six feet, apart, the Community Service Ambassador program was launched on April 11, 2020. This program will see Community Services Department employees redeployed into City-owned parks and open spaces. The Community Service Ambassadors are wearing blue vests so they can be easily recognized; By-Law Officers are in official uniform.
"They are there for positive reinforcement of the social distancing measures in place," said Shaw.
In the event the reminder from the Ambassadors does not result in compliance, the City's Community By-Law Enforcement Officers are called upon to assist, with the ability to levy warnings and appearance notices that could result in a $1,000 penalty and/or up six months imprisonment.
Since the program was launched, the Community Service Ambassadors have gone on dozens of patrols and had hundreds of positive interactions with residents.
Statistics on enforcement activities are updated daily on the City's Open Data portal. Residents are reminded to check the COVID-19 website for the most recent information about the City's response to COVID-19.