Free winter activities around Winnipeg
Plenty of outdoor options to keep active this winter
December 19, 2018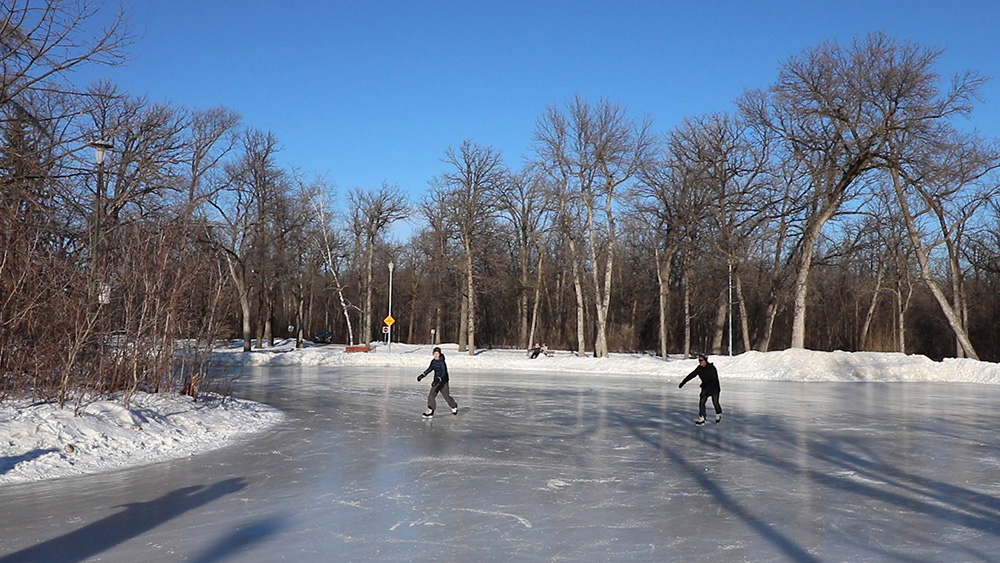 The snow and cooler temperatures have arrived and that means you can now take advantage of free winter activities in many City of Winnipeg parks.
The City offers a wide range of options from skating to skiing for people of all ages to enjoy.
Skating
If you are looking to hit the ice, there are dozens of City operated outdoor skating rinks around Winnipeg for you to visit. Many of these pleasure rinks will be ready to use for the holidays, weather dependent.
You can also lace up the skates at the skating ponds in Kildonan Park, Harbourview Recreation Complex and at the St. Vital Duck Pond.
Make sure to check the City's website to see if the sites are open for pleasure skaters. Organized hockey is not allowed on ponds or pleasure rinks.
Tobogganing
Feel the wind in your face as you rush down one of the City's toboggan hills or slides.
There are four toboggan hills and six winter slides in parks around the City.
The toboggan slide at St. Vital Park opened for the first time in 2017. It is designed to be universally accessible with a ramp so wheelchairs, strollers and slides can easily maneuver to the top.
Keep in mind sliding is at your own risk and check to see if the slides are open before heading out.
Cross country skiing
See Winnipeg from a different perspective by cross country skiing on groomed trails. Weather conditions permitting, the City of Winnipeg grooms trails weekly.
They are free to use and can be found in Crescent Drive Park, La Barriere Park, Harbourview Park, Kildonan Park, St. Vital Park and at the Living Prairie Museum.
Ski rentals are available at Harbourview Park.
Lit trails are also at the Windsor Park Golf Course. That site is maintained and operated by the Cross Country Ski Association of Manitoba. There is an entrance fee and lessons are available at this site.
Snowshoe Sundays
Before the kids head back to class, consider taking them snowshoeing at the Living Prairie Museum.
The first Snowshoe Sunday of the season is January 6 from 10 a.m. to 4 p.m. Snowshoes are lent out for free on a first come first served basis. No experience is required; you just need to make sure to bring your winter boots.
Snowshoe Sundays are the first and last Sunday of January and February.
Park trails
Feel the snow crunch under your feet while you enjoy a walk in the winter. The City of Winnipeg has many trails and pathways for you to explore and take in some fresh air.