Traditional medicine garden planted near Living Prairie Museum Nature Park
June 10, 2022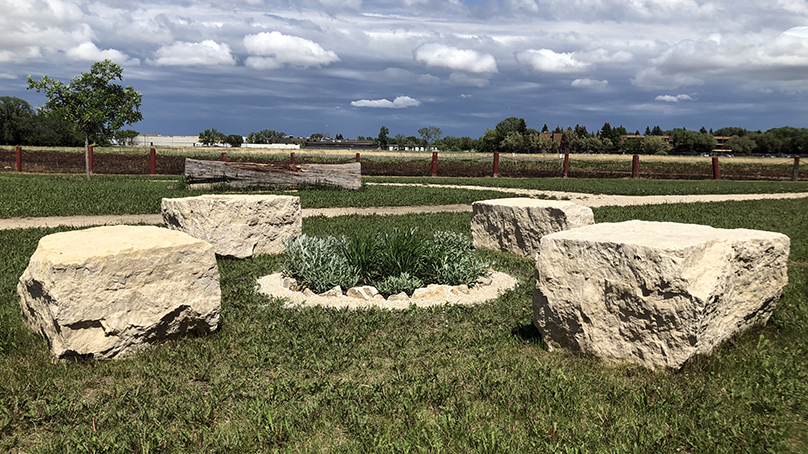 As part of our commitment of reconciliation, a medicine garden has been planted near the Living Prairie Museum featuring sage and sweetgrass, two of the four Sacred Medicines which naturally occur in the tall grass prairie.
Sacred Medicines have physical qualities for medicinal purposes, and a spiritual aspect used in healing and ceremonies. They also include tobacco and cedar.
"Medicines can be safely harvested from the garden while the naturally occurring plants are left to continue their role in the prairie ecosystem," said Sarah Semmler, Curator of the Living Prairie Museum.
The garden is now in its second growing season, and the sweetgrass and sage have returned beautifully despite our long winter.
The museum is located in Treaty No. 1 territory and the traditional homeland of the Métis Nation. This project supports Truth and Reconciliation Commission Call to Action #43 — United Nations Declaration on the Rights of Indigenous Peoples (UNDRIP); it seeks to create cultural awareness of traditional medicines used and held sacred by Indigenous peoples.
The medicine garden is located in the nature park west of the preserve at the north end of Prairie View Road at Ness Avenue. It can be harvested by the public during the summer, but care and attention are needed to maintain the garden. Only harvest what is needed, taking only the leaves and leaving roots and seeds to allow the plants to regenerate between harvests.
It is good practice to consult with an Elder to learn more on the harvest and use of sacred medicines.
"Our Elders teach us that nothing should be taken without something given in return," said Knowledge Keeper Carol Moar.
The Indigenous Peoples of Turtle Island (North America) have always maintained a harmonious and reciprocal relationship with the land - they harvested the food, medicine, and materials they needed for trade and daily life.
Residents are reminded to only harvest from this garden, as removing plants from Living Prairie Museum can harm this endangered habitat. Approximately 1% of the original tall grass prairie remains in Canada.
Originally posted on June 18, 2021