City Recreation Technician receives prestigious Prairie Crocus Award from Recreation Manitoba
Sharon Arsenault manages community programming and Sergeant Tommy Prince Place
June 30, 2022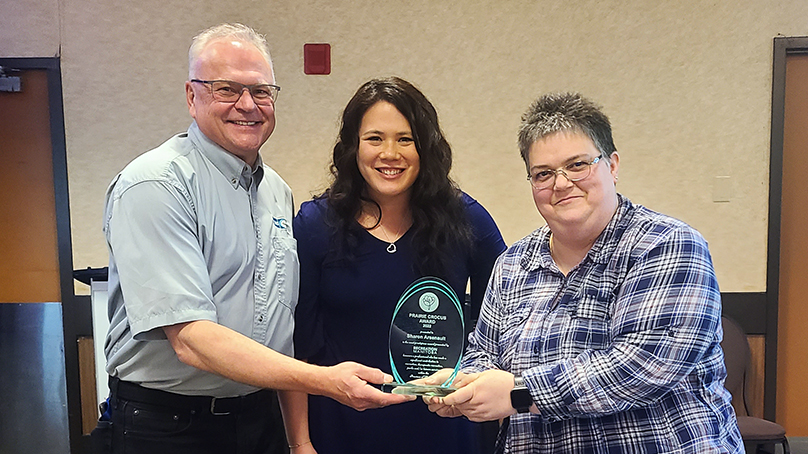 For nearly 35 years, Sharon Arsenault has been dedicated to making recreation opportunities accessible to everyone in the community as part of our Recreation Services team. It's one of the many reasons she recently received the 2022 Prairie Crocus Award, the most prestigious award from Recreation Manitoba.
From expanding Youth Action Centre activities and increasing youth participation, to empowering young leaders and her team, Sharon is a familiar face around Sergeant Tommy Prince Place. She has worked at and managed the facility for the past 13 years as well as programs throughout the community
"It's been so rewarding to see Sergeant Tommy Prince Place become a safe, secure, treasured, and fun space to live, grow, and share," said Sharon. "We are proud to be a part of creating a renewed family atmosphere where all ages can play together."
Prairie Crocus Awardhonours a professional who has made a significant contribution to recreation, therapeutic recreation, parks and/or leisure services within the Province of Manitoba.
"We are very proud of Sharon's accomplishments, and thrilled to have Recreation Manitoba recognize her passion and dedication with this award," said Jennifer Sarna, Manager of City of Winnipeg Recreation Services. "She has been key to building a strong community connection with various groups and organizations which support a wide range of participants in the Sergeant Tommy Prince Place community."
In addition to her work with the City, Sharon is also a long-standing volunteer of Recreation Manitoba. She received the award during its 2022 conference held in May.