Service resumption at Winnipeg Libraries a collaborative effort
Book returns now welcome at select branches
June 25, 2020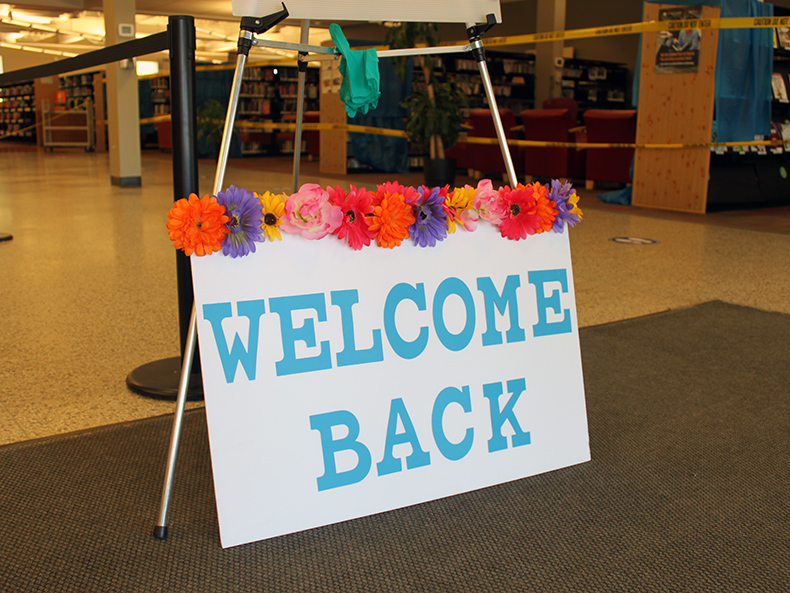 In alignment with Province of Manitoba's Restoring Safe Services plan, eight Winnipeg Public Library branches started accepting returned library materials on Monday, June 22, after a carefully thought out process was put in place.
"It feels great to welcome customers back and to offer more services," said Andrew McCulloch, the Henderson Library Branch Head.
While the stacks are currently closed, Millennium, St. Boniface, Henderson, Pembina Trail, Louis Riel, St. James, Sir William Stephenson, and Transcona libraries are offering hold pick-up service, telephone reference and book returns. When people visit these locations they will notice hand sanitizer when entering, social distancing floor decals, and shields at checkout. Books that are returned will be set aside for 72 hours before being processed as an extra safety precaution. Employees also received refreshed safety training.
People have to feel safe when they visit or work at the library and everyone was happy to see our safety processes in place," said McCulloch. "It is important for employee morale and customer service."
The procedures were developed in consultation with the City's Office of Emergency Management (OEM), which is coordinating the City's response to COVID-19. OEM employees visited to see the new process in person before it was implemented.
"It is one thing to see a plan on paper but it is really valuable to see how it will work in the applied context," said Lisa Gilmour, the City's Emergency Management Coordinator.
Gilmour added she was impressed with how thorough the Winnipeg Public Library was in developing new procedures. Further phases for resumption of library services are being collaboratively developed.
"It is so important for the Winnipeg Public Library to continue to provide services during this time," said Ed Cuddy, Manager of Library Services. "We appreciate everyone's understanding as we gradually restore services in a safe manner."
The City's website will continue to be updated with the latest information about the COVID-19 response.