Winnipeg Fire Paramedic Service receives Superior Tanker Shuttle Service accreditation
Service used in areas of Winnipeg without fire hydrants
February 19, 2021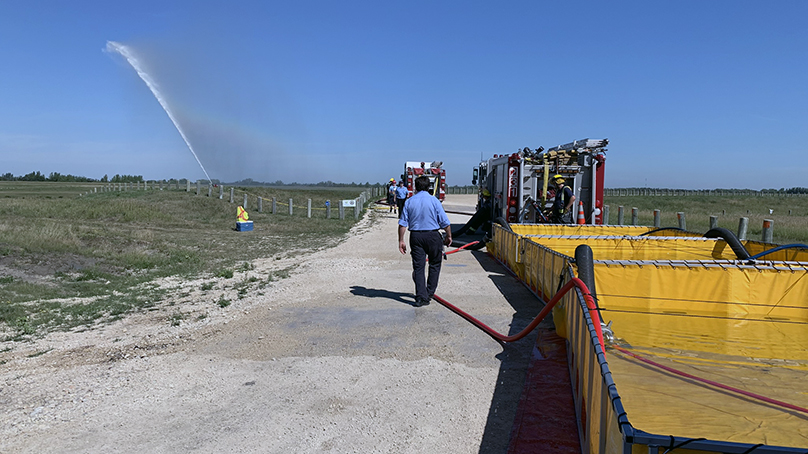 When it comes to fighting most fires, access to water is imperative. For areas of the city that are not serviced by fire hydrants, the Winnipeg Fire Paramedic Service (WFPS) relies on trucking water in.
The process was put to the test in August 2020, when the WFPS applied for Superior Tanker Shuttle Service accreditation.
The WFPS successfully proved it could provide an adequate flow of water over a specific duration of time and received the certification from the Fire Underwriters Survey. This is for particular areas in south Winnipeg which fall outside the municipal water district but within a certain distance from WFPS Station 23 at 880 Dalhousie Drive and Station 26 at 1525 Dakota Street.
"In a fire, seconds matter and quick access to water is a necessity," said Scott Wilkinson, Project Manager, Training and Safety Equipment with the WFPS.
Portable tanks are set up at a fire scene to hold the water in areas without fire hydrants. The WFPS uses water tanker trucks, which can carry more than 13,000 litres of water each, to shuttle water from the closest water supply or hydrant to the portable tanks. Fire engines then draw water from the portable tanks to fight the fire.
Wilkinson said it can take tens of thousands of litres of water to extinguish a well-involved house fire.
"Our members regularly train on the use of the tankers and the set-up of the portable tanks to ensure they're prepared to deploy as quickly as possible if needed," he explained.
The Homeowners Superior Tanker Shuttle Service accreditation also means property owners within the specific areas may be eligible for improved insurance premiums as the proximity to a fire hydrant and fire station are factors in determining the price of an insurance policy.
In addition to fighting structure fires outside of the municipal water district, the WFPS tankers are also used to fight wildland, grass and brush fires within Winnipeg.